Learn More About piratesofemerson.com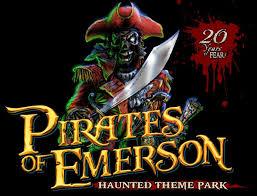 Pirates of Emerson is a haunted theme park designed to thrill both kids and adults. Located in California, the park is more than 24 years old and has been successfully terrifying its customers, taking them to a new and thrilling world of horror, thrill and entertainment. Visitors, even the bravest ones find goose bumps on their arms and legs, remaining speechless with wonder at the multitude of attractions on offer. The park is constantly innovating with new rides and attractions to keep in the novelty. In order to attract more visitors and to keep them engaged and happy, the owners of Pirates of Emerson are constantly coming up with offers and discounts, like Military Night on Thursdays where you have $5 dollars and free upgrades on Sundays (you can enter the park twice with a single ticket, and avail a discount of $5 if you bring along a previous ticket stub). Pirates of Emerson follows a Bay Area Halloween tradition. However, visitors are allowed to come in all dressed up in various costumes, but no masks and make up.On a single ticket, you have access to five exciting rides, namely Cursed Cavern, Demonic Voodoo, The Haunted, Pirates of Emerson, Mental Maze and several exciting events like FrightMare Sideshow, Boneball, Misfortune Teller, Emerson's Oddities and many more. If you want to book tickets to the park then you can book them online.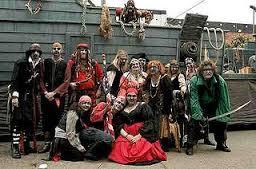 The attractions in Pirates of Emerson are entirely suited to the atmosphere of a Halloween park, where you have rides manufactured with excellent detailing and perfection.You will really enjoy the scare zones and even the kids would love them. Parents come here with their young children to enjoy the rides and all-day long picnics. The staff at Pirates of Emerson are renowned be helpful and friendly; and in spite of the long queue, they are able to handle everyone judiciously well.Young kids who get the jitters when they see Halloween stuff can have fun at the mini Ferris wheel, train or the carousel.Visitors claim that the most exciting rides are The Haunted" and "Demonic Voodoo" because these rides are crafted in a realistic manner with exceptional attention to detail. Visitors are to go through "The Haunted" with the help of just a flashlight, so you can guess how very exciting it can get, especially for kids. Mental Maze is also fun because you have to find your way out and it could turn confusing. Pirates of Emerson is renowned to be one of the longest running haunted park attractions in California area and unlike several parks in nearby areas where they have just 2 or 3 rides, this park has five unique rides. Every year, the park gets ready for greeting its visitors for the Halloween season and includes plenty of fun sights and other attractions. Halloween fans would fall in love with this park. This is no gory, violent or extremely scary scenes; it is a park that families frequent. You can follow the social media networks to know more about the rides and fun activities on offer at the park during each season.