Staff Picks to help you save even more at Perpetual Kid
Expiring Perpetual Kid Coupon . Good luck!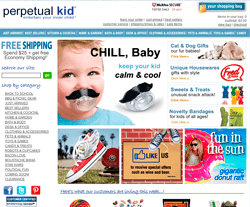 Visit perpetualkid.com
Related Categories
Perpetual Kid Coupon website view
Perpetual Kid is a site that offers entertaining gifts that are unique and fun, meant to entertain your inner child. You can pick up a Stinky Candle, which has smells such as pepperoni pizza, or even burritos! You can also find a mustache pacifier, that will make your baby look like they have a full grown mustache on their face. Want to get back at an office mate or friend that pulled a prank? Sign up to have your friend receive a Glitter Bomb that will pop open and send glitter everywhere! You can also get cute toys like a Hillary Clinton action figure, Star Trek spock themed drink kooler, to-go wine cups or even pac-man pool floats. If you are looking for a gift that will give back to your friends or loved ones then look no further then perpetual kid where you will find unique and fun pranks and gifts.