Learn More About pdhengineer.com
PDH engineer is online education platform for all the engineers who need their professional development hours. The founder, Edward Brunet Jr. understood the significance of such need since he also needed PDH while he was abroad, but current online platforms didn't have quality material for the engineers. Because of this, he founded PHD engineer in 2003 when he came back to the US and since then, this firm is recognized brand that provides quality courses not only to the individuals in this field but also to the associations and firms who understand the importance of adequate courses and webinars in the engineering sector. Their primary goal is to provide the best service out there and one of the proovs are featured they offered in 2003 such as the Triple Guarantee, Reward Tokens for every webinar in the 2014 and also Interactive webinars in 2006.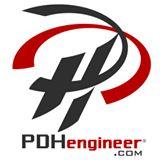 Here all clients can register for an account and just sign up prior to the beginning of the webinar and can use video or audio options to attend their webinars. They are a great way to make sure this process will be legit since their courses and webinars are acknowledged by licensing boards. Just in case that some of the state boards rejects it, the PHD engineer gives a refund, pays other significant course or webinar for the clients and also pays penalties for renewing the license. Regarding their Reward Tokens, they win tokens with every purchased course and webinar and they can use them for some other course since here ten tokens is equal to one PDH. By visiting their website, one can easily find all needed information. On top of the main page, he can search courses and webinars by discipline he is interested in, see the schedule of this education program and special packages, along with the corporate solutions section that helps any firm to decide which course or webinar to choose.

Just below these links, One can see a list of all areas and with only one click on the desired category, he get insight into the number of the PDH of the course, along with the price and also the rating of other previous customers. Since above these sections one can leave a message with a simple click on the Live support chat link, he can rest assure to get his answer quickly since the staff is professional and pleasant. The customer is always most important for them and one can always rely on them to help them and provide all needed answers. On the bottom of the page, every visitor can see all services they offer since here one can purchase private webinars, courses by email, use individual and group discounts. Along with these, for all those who want to work with such perspective company, the PDH engineer is just what they need. They offer numerous great opportunities, such as evaluating courses, writing nd also presenting webinars, participating in their affiliate program by placing PDH engineer link on a website and earning when some visitor clicks on that link and makes his purchase on the PDH engineer website. With them, possibilities don't have boundaries and looks like the sky is the limit. Their loyal clients and long history prove tear expertise is undeniable and therefore, success is not something they have by coincidence but because of their hard work.