Expiring OZO Hotels Promo Codes . Good luck!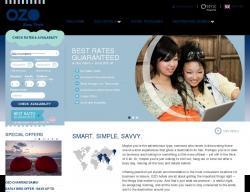 Visit ozohotels.com
Related Categories
OZO Hotels website view
OZO Hotels is part of the ONYX Hospitality Group that runs a chain of hotels in Asia. Unlike many hotel chains that run manage luxury hotels; OZO Hotels goes a notch higher beyond just providing luxury. The business focuses on ensuring that travelers get proper rest while at their hotels and are well taken care of. OZO Hotels takes a more personal approach when dealing with its guests with the primary aim of ensuring that travelers feel like they're at home. The hotel rooms are designed to ensure that guests get quality sleep. As such, features like noise proof walls and blacked out curtains are common features. OZO Hotels' guests are also well fed to ensure that they always have a great start to their days. Their tasty cuisines include local recipes that are healthy and organic. OZO Hotels are found in Sri Lanka, Hong Kong and Thailand. OZO Hotels is committed to offering excellent service at affordable rates. Discounts on extended stays are common.