Learn More About oyorooms.com

OYO rooms are an Indian aggregator for standardized inexpensive hotel rooms. It currently operates in more than 170 Indian cities. Recently it is opened in Malaysia also. Ritesh Aggrawal is the CEO and founder of this company, Oravel Stays Pvt. Ltd Is the started up launched by him in 2012. Oravel was designed as a platform for booking budget and premium accommodations. Realizing the great variability in the budget sector, he pivoted Oravel to OYO in 2013 focused on offering affordable and standardized accommodation. At the starting it had only 1 hotel in Gurgaon in 2013. The company as of November 2015 has 15,000+ hotels and more than 10,00,000 rooms in 250 + cities of India, and has been named India's largest budget hotel chain. OYO's are the India's largest branded network of hotels spread across 204 cities with 6500+ hotels offering standardized stay experiences at an unmatched price. From a single hotel in May 2013 to over 6500+ hotels at present, this company has an inspiring journey from a smart idea to India's largest branded network of hotels with the dream of becoming the world's largest branded network of hotels.
OYO provides immaculate services to their customers. They ensures standard services including features like breakfast, free wifi, flat tv screens etc. Price of rooms varies from location to locaton. It started from Rs. 900 to Rs.12000. The aggregator provides property owners with support such as standardized supplies and service training. This company also won many awards like Express IT Awards - Start-up of the Year, India International Travel Mart Award and Lufthansa ET Now Runway to Success Award. Moreover CEO of the company also won Business World Young Entrepreneur Award and the TiE-Lumis Entrepreneurial Excellence Award. More recently, he was named by Forbes in its "30 Under 30" list in the consumer tech sector. In the largest funding round to date for a Thiel Fellow project, Ritesh Aggarwal has raised $25 million from Lightspeed, Sequoia and others to build a branded budget hotel network across India. OYO promises comfortable premium delightful stays with features such as an air conditioned room, complimentary breakfast, and Wi-Fi with 24x7 customer service support. Guests can use the OYO app (over 2.5 MILLION downloads) for booking rooms as well as order beverages and request room service along with booking a cab and searching nearby restaurants. Hotel owners who partner with OYO see a significant increase in occupancy levels, get access to the world's first tablet based property management apps and become part of a brand that is recognized and most loved by travelers nationwide.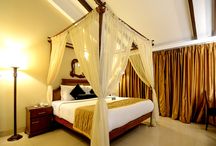 Called OYO Rooms, the company partners with property owners across India and makes sure that their facilities meet a baseline of requirements from linen quality to breakfast to Internet access for a starting price of 999 rupees or $16 a night. OYO's website offers various places to stay and enjoy your holidays there. It also listed top destinations to visit and stay. You can view these top destinations and choose your hotel accordingly. Furthermore you can also filter your research and book your dream destination in adavance. Here you can also check out hotels rooms are available at particular date with their prices and all other facilities. You can also select your air-tickets with online reservation also. This company offers various package for holidays also. Oyo holidays pacakages, Oyo's for long stay. OYO's in hill stations etc packages are available at excited prices. During the seracginh of the particular location OYO offers various subcategories to filter your research. It offers top locations of that particluar city, Airport near by it, Flagship of OYO, Luxurious stay of OYO's. OYO's for couple, OYO's near new cmmerical area, OYO's near Railway station and OYO'S near famous place of that particluar city. BU filtering you can get exact and amazing stay for your holidays. Discount offers are also avaialable for the customers and members. You can redeem your amount during online payments. You can also get referral points if you suggest OYO to your friends and relatives. OYO partnership with OLA is one of the biggest partnerships that the Indian start-up space has ever witnessed, OYO Rooms and Ola Cabs join hands to take hospitality to the next level – on the wheels. As a part of this partnership, customers can book Ola Rooms in just three taps through the OYO App. From OYO website you can check videos, reviews, contribution and explorer of the customers. You will always get positive feedback from the customers regarding services and facilities of the OYO's. OYO helpdesk is available 24*&. You can simply call them and get information of your destinations. Customer care executive also offers you various other destination simiar to your destination. You can also book your booking on phone call. OYO app is also available for easy and simple booking.