Learn More About musement.com
Musement is an online platform based in Milan Italy, which offers activity planning and booking, guided touring, museum ticket booking and much more, everything under one roof to ensure an efficient and time saving trip so that you enjoy your trip to the max and return home with best memories. Created in 2013 by Alessendra Petazzi (CEO), Claudio Bellinzona (COO) , Paolo Giuline ( VP Offer Development) and Fabio Zacchini ( CTO), Musement was launched with one common goal, to build the most efficient way of travel planning. Today, Musement offers its services in around 50 countries across the globe in the most cost efficient way possible, and is available for iOS and Android users in multiple languages, apart from the website. With rapidly growing popularity around the world, Musement has featured in many international publications and has received a critical acclaim from its users. Tired of waiting in line for booking tickets to the museum you've been planning to visit for a long time? Are hotel prices too high in the country you are visiting? Well, there is one solution, Musement! They offer online ticket bookings for museums, exhibitions and other attractions so could skip lines waiting for your ticket. Musement also offers Price Match Guarantee. Find the lowest prices for the same activities and they will match their price with the lowest price. If that's not enough, Musement offers various discounts to save you some extra bucks on your trip.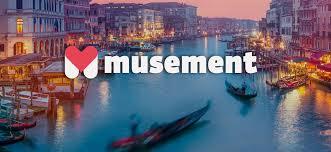 Musement is one of the most versatile platforms, which offers its services in multiple languages, including English, Italian, French, Spanish, German, Portuguese and Russian. In addition to that, they provide payment options in US Dollars (USD), Euros (EUR), Great Britain Pounds (GBP) and Arab Emirates Dirham (AED). How about that? Booking is very quick, convenient and safe, so you don't have to worry about delayed confirmations or disclosure of your personal data. Just select, book and ready to go. It's really that simple. If you haven't decided where you might want to visit next yet, Musement displays the most popular places around the world, some with amazing discounts, so you plan your next trip with Musement. Looking for some tips and assistance before you plan your next trip? Musement offers travel tips that you may need to consider before you plan your next trip. If you need any assistance regarding your booking or travel arrangements, Musement offers a 24/7 customer services in multiple languages so that you could make sure your trip is in the right hands. You can also share your experiences and tips as a guest blogger for others who may need them for their future trips. Musement also offers Hotel Platform for interested in associating with them. There a several benefits in working with Musement, from avoiding parity rates to being to part of making your tourists' trips better with Musement. For latest tips and exclusive offers, sign up for their newsletter to enhance your travelling experience with Musement. If travelling is your thing, subscribe to their Youtube channel and follow them on Twitter, Facebook and Instagram for lots and lots of pictures from the most happening places on earth.