Learn More About mspy.com
mSpy is a smartphone tracking software that is installed on compatible smartphones or tablets after being downloaded. Once installed it records all activities in the smartphone and uploads the data to an online account which you can log in later to review the activities recorded, provided you have an internet connection. This spy software basically runs on phones or tablets that are running Android OS version 4.4 onwards, iPads or iPhones running iOS 7.1.2, Blackberry with OS version 7.1 and Symbian phones.MSpy Cell phone tracker app is marketed and sold by MTechnology LTD founded in 2011 by Andrei Shimanovich and its current headquarters is in London. It currently provides a more controlled smartphone experience to over one million users worldwide.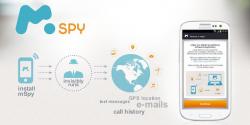 To use mSpy first check and confirm the compatibility of the target phone, then choose the subscription plan that will suit you and proceed with the purchase, after which you will receive an email containing the login and password to the control panel, where you also find installation procedures. You can also choose the remote installation option if you don't have physical access to the targeted device. With this option mSpy will be installed on your mobile device as well as rooting procedures, locations, disable SMS apps keylogger setup, and activate USB debugging.Mspy offers the best monitoring solution as it stands out from its competitors. Mspy offers a single panel for all in one solution and comprehensive customer support system 24/7 through chat, email, and phone. It also has advanced technical support such as the remote installation through mAssistance. With mspy you don't have to worry about emerging technology, making your software obsolete because there are automatic updates which include new features and adjustments. The features that makes mSpy unrivalled, is the ability to monitor several communication modes including SMS, Facebook, Skype, Viber and WhatsApp as well as the ability to track Android and Iphone smartphones. It gives users the ability to monitor what is happening with the target phone through keylogger and line tracking. Don't miss out on this great app, log in to their website and preview the great services that they are offering. This app can be purchased online at mSpy website with their prices ranging from $40 to $200 depending on the edition and subscription you opt for. MTechnology has made payments easy, fast and secure so you don't have to worry about anything while purchasing the App. It has partnered with organizations such as the American Express, Mastercard, Visa, Direct Debit and online payment giant PayPal to ensure that you don't lose you hard earned money. Be sure to follow them on social media sites such as Facebook, Twitter, and Google+ so as not to miss any great offer offered by MTechnology on mSpy software. If you have any questions or other queries get to fill in their contact form on their website and they will get back to within 24 hours.