Learn More About moschino.com
Fashion can be bold or it can be stagnant. It can let someone break out or allow someone to blend in. For those that prefer the former and want to make a statement with every piece that they wear, then, Moschino is the fashion house that can do all of that and more. Crafted with the fashion extremist in mind, this powerhouse of a company believes in bold and brilliant statements in fashion and is making waves around the world for doing just that.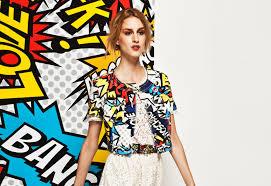 Moschino was established in 1983 by Franco Moschino, whose name the brand still embraces. Moschino believed that surrealism should be embraced by fashionistas and brings that to every piece he has designed and has his name attached to. While the designers may have changed over the years, the goal of this line hasn't: to be bold. To be brilliant.To be controversial. In the beginning, Moschino was all about making a statement and sometimes this effort got them in trouble. They wanted to make tongue-in-cheek references to other designers and fashion houses on the market, and that is exactly what they did. Collections often played around with this idea of elevated fashion but recognizing just how this fashion could be perceived or used by elitist to make a statement. Included in their line of offerings over the last three decades have been a well-crafted and stunning cashmere jacket that was emblazoned with the term "Rich Bitch" to reference the stars and fashion elites who paraded on the streets of New York and London with their nose in the air. One year, the line created a funny t-shirt that was tuned to a Chanel No. 5 show. This reference got them sued by the company but elevated the status of Moschino as a premier fashion house during the process.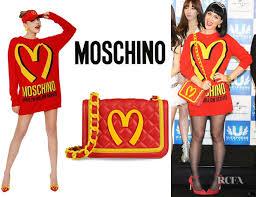 Moschino clothing comes in a wide variety of different selection, with each new season bringing a new collection for those that love the brand. The pieces are fun and they are unique. There are large and puffy coats in bold patterns with zippers and other embellishments. These are functional and statement-making all at the same time. Further, Moschino has amazing t-shirts, shirts, dresses and more for the casual wearer who want to make a statement with what they wear. They have t-shirts with references to pop culture, like ones with a well-dressed Barbie doll, and mesh shirts that harken back to the high times of the eighties. Men and women both can get involved in the Moschino game, as the designer believes that fun and fashion should cross gender lines. While Moschino is all about fun and humor, the design-house has amazing elevated fashions as well. Of course, the evening and fashion wear always have that twist of whimsy and excitement but not at the sacrificing of fashion standards. Whether a big statement or subtle, Moschino has all the modern fashion-forward and risk taking consumer wants and needs. Moschino is a fashion-label that has international appeal. While their offerings are carried in stores throughout the world, they are not necessarily marketing for the mass consumer. The cost of different pieces is standard in the industry but are not for those on a budget. A t-shirt can range in the hundreds of dollars and jackets in the thousands. Therefore, Moschino is not a massive brand but one that is perfect for those that have a bit of extra funding in their fashion budget.