Learn More About michaels.com
Michaels is a North American arts and crafts chain. In the year 1976, Dallas businessman Michael J Dupey opened the first store in North Town Mall in Dallas, Texas. The company was incorporated on July 17, 2013. Over the years the company's growth has been tremendous and as of February 27, 2016 they have more than 1340 stores under the brand names Michaels, Aaron Brothers and Pat Catan's in United States and Canada. Besides this they also own Artistree, that manufactures specialty framing merchandise and Darice, an upscale wholesale distributor of gifts and décor items. The company also has an impressive line-up of its private brands including Artist's Loft, Creatology, Celebrate It, Loops and Threads, Studio Décor, Bead Landing and Recollections to name a few. Michaels is the largest chain in its segment in North America. Their headquarters are in Irving, Texas. The company's major competitors are Amazon, Inc., Moore Arts and Crafts, Inc. and Jo-Ann Stores, Inc.

Michael Store Inc. are driven by customer engagement strategy that showcase a huge assortment of artistic and creative products. Michaels provides a stunning line-up of approximately 35,000 stock-keeping units in art and craft essentials, framing, floral, wall and home décor, seasonal merchandise and scrapbooking to satisfy the diverse needs of crafters, hobbyists and do-it-yourself home decorator. Furthermore the company also takes a keen interest in organising craft classes, store events, projects, mobile applications, instructional displays and online videos to provide a creative experience and thus inspire them to create something of their own. With the help of its friendly and knowledgeable associates Michaels is able to offer a shopping experience like no other, the atmosphere in the stores is creatively charged up that it inspires originality and helps customers achieve their creative goals. Ideas and education is also provided at the stores to enable the customers complete an array artistic and home décor projects from start to finish. Their robust online platform promotes social networking (it includes expert tips, marketing content and project ides) that has helped them fortify their position as industry leaders.
Michaels has taken custom framing to an all new level. Be it your family portrait, an heirloom or gallery wall of prints, the certified framing experts know it all. You can chose from around 450 mouldings, over 300 archival mats and four UV blocking glazings. You can get free consultation at the store and you can also view the frame in multiple room setting with the help of a visualizer. This will help you finalize the frame and would exactly know how your frame or shadow box would like. The frames are meticulously designed by the in-house design team and are handcrafted by the artisans. The museum quality archival mats and UV-blocking glass used gives an impeccable finish and you art piece will be protected for years to come.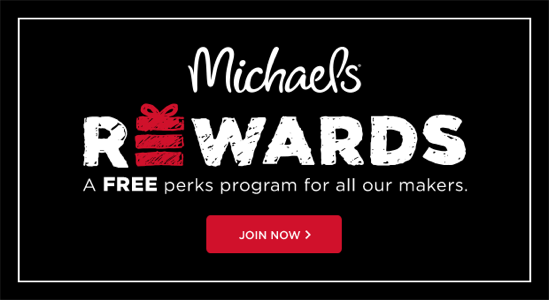 The Rewards program from the house of Michaels is truly rewarding. After joining the program you can avail exclusive offers reserved only for members. You can also join members-only events wherein you can mingle, shop and create exciting stuff with people just like you. You can also get early alerts for big sales. Give the gift of creativity to your loved ones in the form of Michaels Gift Cards. They can be sent online or can be mailed instantly.
Michaels Store Inc. is actually a place where creativity happens. It's indeed a rewarding place to foster meaningful connections.
michaels.com Social Media
All the creativity is happening here. For out of the box ideas and more, follow the Michaels on Facebook and we bet you will never fall short of ideas.
For all the latest events, classroom sessions and more follow Michaels on Google+. It's creatively delicious.
Is it made with Michaels? Then show it off on the Instagram page of Michaels.
Summer crafts, party and entertaining ideas, home décor, gifting ideas, paper crafting, you name it and it's there. Creative ideas couldn't have gotten better than this. Re-pin the favourite ones to your wall. You can even showcase your creativity. So, what are you waiting for? Follow Michaels on Pinterest.
Find all the jaw-dropping deals and amazing offs here. Check out what are the other hobbyists and do-it-yourself enthusiasts doing. You can also post pictures of your creations and inspire others.
Take your creativity to the next level with the broad and deep assortment of fascinating art and craft materials from the house of Michaels. The step by step techniques shown on the page are easy to follow for both experienced makers and beginners. For all this and more follow Michaels on YouTube.