Learn More About martztrailways.com

Travel with less hassleWhere do you want to go? You may want to go anywhere, but if you think of the preparations, you may not like to take all the hassles. Well, now you have the solution in the form of Martz Trailways, who have a separate section known as Martz Tours. They offer 'interactive entertainment-based tours'. They mainly operate in Scranton, Wilkes-Barre and Poconos region. An excellent service combined with an amazing experience is what makes Martz Trailways different! Operating for over 100 years, Martz understands the demands and requirements of a discreet traveller. In terms of service, experience and cleanliness, they offer the best! From a one-day trip to multi-day trips, Martz will create memories that will remain unforgettable for years. Whether they are daily commuters or tourists or people availing charter services from Martz; they always have good things to say about this transport service. Martz will literally take you anywhere you want; you just need to specify the details!Convenient travelling through online bookingThe best thing about Martz is that you can book your tickets while sitting within the comfortable confines of your home. Just take a print out of the boarding pass or the e-ticket and you can board the bus. Take your own food and non-alcoholic beverages on your journey. If you have booked your tickets through Greyhound, you can board a Martz bus. However, to know the details, it is better to check with your travelling agent. If you buy a one-way ticket, it will remain valid for ninety days. But those who prefer an all-round ticket will find that this is valid for almost a year after the purchase.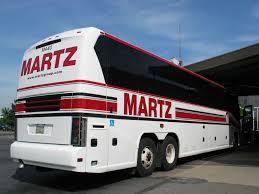 In case there is any need to change the date of your travel, you can contact the nearest Martz counter to make the changes. At times, there are some special fares that are charged against some tickets. It is better to ask your agents before you buy those tickets. Also buying tickets from Martz will allow you to have special rates for groups. So, if you are planning a family vacation, you may contact Martz to know about the special fares. Going the distance; the safer waySenior citizens will be happy to know that they will have a special discount if they have a valid ID proof. They will have a 12% off on tickets. There are three things that separate Martz from their competitors. The drivers at Martz will go through 168 hours of training before they are hired. If you are worried about your safety, Martz will take care of it too, as they have a distinctive Safety guide which needs to be followed to the tee. Martz promises a 24x7 service which means whenever there is a problem; there will be mechanics to tackle it. You will never be stranded on a road. Also, the buses undergo a regulatory check before they are allowed to travel. Martz Lines started in 1908 by Frank Martz Senior who started small operations in towns in and around Pennsylvania. Later the service spread to inter-city service and the buses started operating between Wilkes-Barre and New York City. After his father's death Frank Martz Junior started to improvise on public travelling. The company now has many wings including a travel agency, a coach company, and bus sale along with repair operations.