Learn More About majesticathletic.com

"Athletes are born winners not losers, as soon as one understands this and take on this winning attitude in their life, they become more successful in their life." Majestic Athletic has been proving this for many years.Majestic Athletic, also known as the Home Of American Sportswear, is an American company that designs, markets and manufactures sports apparel like team uniforms, performance athletic apparel, outerwear, jerseys and licensed athletic wear. It has been the best on-field uniform of Major League Baseball (MLB) for years officially and it also manufactures athletic wear and other sports apparel under the license of other American professional leagues such as NHL, NFL, NBA and for some association football teams as well. Talking about its history, the company was founded by Faust Capobianco III in 1976. He was inspired by his mother Mary who had her own clothing company that used to make blouses for women. Majestic invented a light-weighted pullover jersey, the batting practice jerseydesigned to use in the heat of the day, which made its debut with MLB in 1982, and in 1984, Majestic Athletic signed its first National Licensing Agreement with MLB. In 1989, it made its NFL fan wear debut and after 22 years of producing fan fashion and batting practice jerseys of the highest calibre, it became the sole provider of on-field uniforms for all 30 MLB teams. Majestic is continuing its 30 plus year of partnership with MLB and 26 plus year partnershipwith NFL. In today's world, it has been seen that there is a great fan following for each and every sports, fans used to cheer for their favourite game and sportsperson in proper athletic wear. Majestic Athletic is taking a very good care of the fans also, it is a sports fashion retail website that offers various sports apparels and offers its products through distributors as well so that the fans can cheer for their favourite players with full enthusiasm. It designs, manufactures and markets athletic team uniforms, outwear and athletic wear for men, women and kids. It offers jerseys, sweatshirts, fleece, and hooded fleece, outwear, jackets and also provides other sports apparel like blank goods, hats, uniforms, authentic collections and T-shirts.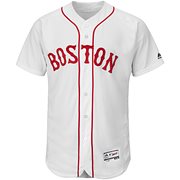 Majestic Athletic serves athletes, fans, retailers and leagues. It has alsopartnered with the Miracle League of the Lehigh Valley to sponsor a baseball program for more than 350 special children and also raised a record breaking $2 million benefit through a Charity golf event to benefit All Children's Hospital. Majestic is keeping all its players and fans cool when the game really heats up as its stretch mesh design provide comfort, ventilation and flexibility.Recently, Majestic Athletic also participated in annual All-Star Send-Off ceremony, in the ceremony the national level players wore jerseys with gold embroidery and retro lettering and brown caps while the American Leaguers wore the reverse coloured scheme that was presented to them by Carter Mock, a 7-year old bone cancer survivor, who recently got word that he is totally cancer free and it also designed camouflage-themed jerseys for the players to be worn on Memorial Day in order to honour the US Armed Force Officers who sacrificed their lives for the country. You can also order t-shirts, fleece, shoes, and jerseys and outwear in order to cheer or represent your favourite player or team, as the players also love to hear it from their fans. Just a few clicks and all your products will be delivered to you at your doorstep as Majestic Athletic designs team uniform not only for pitch, but also for their fans. Today, it has also become a part of teenage fashion.