Learn More About m4vgear.com

M4V gear is a software that has been developed to enable usability of media videos by converting them to different formats from that of the seller/owner to suite the individual customer. Many producers/sellers have their media files copyright protected to prevent illegal distribution of intellectual property. An example is the DRM (digital rights management) that's serves to protect the producers' right. This has however been done albeit at the expense of the consumer who now faces challenges such as denying the user the ability to copy the content or converting it to other formats. In other instances this means restricting the consumers on what hardware can be used with the device or what software can be run on it! E.g. an iTunes videos cannot be watched on other devices except for Apples devices and iTunes itself. In spite of infringement on consumers usability of digital media DRM is protected by law and in most cases imposed on various multimedia products by companies such as Amazon, AOL, Apple Inc., Google, BBC, Microsoft, Electronic Arts, Sony, and Valve Corporation among others. This with time necessitated the development of customer based software to enable them enjoy their rights and freedom to watch what they have rightfully purchased without hardware restriction.
Why M4V Gear? The following are the most striking features of their product that you will find quite astonishing. First is supports batch conversion this facilitates conversion of large numbers of files, be them in folders and sub-folders, with just a click. Second, it is the fastest DRM remover in the world and capable of removing DRM from your iTunes movie, TV Shows, Music Videos at 20X faster speed. This is since it has adopted an innovative DRM decrypting technique unique to itself thus much more potent than other similar products. Third M4VGear DRM Media Converter can keep AC3 Dolby 5.1 audio when removing DRM from iTunes videos, which is what other similar products cannot do. It will be perfect to play DRM-free iTunes videos with 5.1 audio on TV. Besides, Multilanguage subtitles including audio tracks of iTunes videos can also be saved with this powerful DRM Removal software. In this way, you can choose the subtitle of certain language to be displayed on the screen and the audio track of certain language to be played. Fifth it is quite economical and user friendly as it allows lifelong upgrades and support.it also has the ability to keep iTunes rentals forever or backup iTunes movie to multiple devices at the same time, so that you can watch conveniently without wasting time on downloading again. M4V gear provides the simplest user interface that makes it very easy to use even by toddlers .Apple script can also be used to control the use of M4V gear.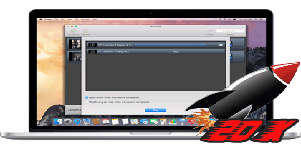 In terms of compatibility the latest M4V gear is compatible with Mac OS 10.7, 10.8, Mavericks 10.9, Yosemite 10.10, EI Capitan 10.11 and the latest iTunes 12.3, and will constantly be upgraded for each new system and iTunes and thus you will not worry about compatible issue of M4VGear DRM Media Converter with your latest Mac OS and iTunes all you need to do is upgrade your M4V Gear with their latest updates for free. Simple get an M4V gear and enjoy batch conversion, Simple interface, converting iTunes Extras, keep closed caption of iTunes videos, enjoy M4VGear Applescript use control and definitely lifelong free upgrades and support. However they do not support the conversion of DRM protected files such as Amazon Instant Video and videos from BBC Player. In addition M4V Gear does not support iTunes audios and audiobooks.