Expiring Luray Caverns Coupons . Good luck!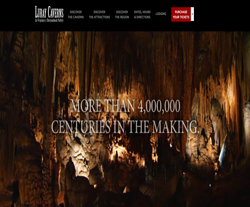 Visit luraycaverns.com
Related Categories
Luray Caverns Coupons website view
Located in Luray Virginia, with the Shenandoah Valley, the Luray caverns are a national landmark and one of the largest series of caves in the Eastern United States. The site also features the Luray Valley Museum, which houses historic items from pre-contact Native peoples to the 1920s, a seven-acre recreation of a 19th century farming community, a car and carriage museum, a massive train and toy collection, a garden maze, a rope course, country club resort, and more! Available are two dining options as well. The website offers hours of operation, further information about the attractions, and ticket pricing and purchasing options.