Learn More About lumberliquidators.com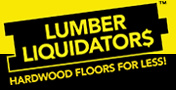 If you are building a home or refurbishing your present residence, the flooring will remain of optimum importance. The right type of flooring can change the way your home looks. Mainly, because flooring is a vital part of your entire house and it affects the overall appearance of your home. Lumber Liquidators was started in 1993 by a contractor named Tom Sullivan and he opened his first store in 1996 in Massachusetts. In just a period of 8 months, he opened his second store in Connecticut and since then, the company has been growing at a tremendous pace. The company is currently headquartered in Virginia and has 46 stores all across the country. Over the period of 20 years, the company has grown consistently and managed to make a mark in the industry. The company is known to stock the largest items for pre-finished and unfinished floors of hardwood in the entire industry. They have experts to help you make your purchase and also explain you the types and varieties available in every product. The company also provides free samples to the customers to instill a sense of reliability in their minds. In order to provide products at a reasonable price, the company purchases good from the mills directly, this reduces the number of middlemen and helps the pricing to be maintained at a minimum rate.

Lumber Liquidators stocks solid Bellawood flooring, solid hardwood flooring, engineered hardwood flooring, distressed and unfinished hardwood flooring and easy click hardwood flooring. There are many varieties of wood in each category that include acacia, red oak, white oak, Brazilian cherry, pine, maple, oak, American cherry, mahogany, bamboo, Brazilian chestnut, American walnut and many more. You can also choose as per the thickness, plank width and brand for your home. The products are separated based on the flooring grade as well, this includes natural, rustic, select, utility and millrun. The variety in colors includes red, cream, brown, beige, tan, white, gold, grey, yellow to name a few. Pick the right type of hardware flooring based on matte floor or unfinished floor. The flooring will enhance the way your home looks and will bring in a new charm to it. The company also offers bamboo and cork flooring as well as laminates and vinyl wood plank for your home. It comes in a variety of colors, is easy to install and scratch resistant. You can install it above and below grade concrete and grade wood. The flooring is durable and long lasting as well. The high quality flooring is priced at a reasonable rate to bring you the best wood from across the world. For purchase, you can either visit one of their stores or choose from the catalog online to bring home the best flooring. Lumber Liquidators also offers wood look tiles that have the looks of wood and the durability of tiles. With simple installation, it can totally change the way your room looks. You can get a hardwood look and feel, with the simple installation of a tile. They also stock molding and flooring accessories and tools like decorative wall panels, butcher block countertops and floor protection and tools.