Learn More About lindybop.co.uk
Lindy Bop is a fashion retailer that incorporates the flare of the 1950s style in modern clothing options. Relatively new to the fashion scene, Lindy Bop was founded in 2011 with a goal of becoming a modern brand with a vintage feel. That goal has been achieved as Lindy Bop is now a world-recognized brand that has customers across the globe. 

Based online, Lindy Bop believes in creating unique styles that speaks to the fashion needs of today while incorporating the classic styles of the past. Among their options in clothing selections are dresses, tops, bottoms, and accessories. Based in the UK, this online boutique offers an amazing array of options in each of the aforementioned categories. Dresses range from the simple black dress to the fun and funky patterns that will harken back to the dances and jitterbugs of the good old days. There are even selections for great headbands and even petticoats as well.
While women are the primary target of the Lindy Bop boutique, there are selections for younger individuals looking to get that vintage feel in their wardrobe. Lindy Bop has a dedicated kids section that makes shopping for that fun and funky piece a breeze. There are cute children's dresses, knitwear options, and leggings that are perfect for the little girl that wants to embrace a unique style. Not only that, but the prices are as affordable as well. Lindy Bop offers pieces under twenty dollars and crafts each of their pieces with quality but affordability in mind. 

 Those that utilize the online boutique to purchase find that it is highly user friendly. Beautiful graphics display the options from which an individual can purchase and the color palette on the left makes hue selection a breeze. Further, there are also easy to use size and fit guides that make selecting the right option easy and fun.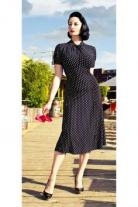 If you are looking to purchase and are unsure about the additional cost of shipping, Lindy Bop makes it easy on their consumers. Whether you purchase one piece or twenty, Lindy Bop offers a flat rate shipping at just $1.95. That means that you can stock up on all of your favorites or try one piece and you know that you are not going to pay an exorbitant amount on the handling fees. 

Adding to the customer experience that Lindy Bop strives for is there customer service. If you have an issues, be it technical or in choosing a size, Lindy Bop has you covered. This online boutique offers a dedicated help desk section that is devoted to answering customers' concerns. The result is a great buying experience that leaves individuals coming back for more time and time again. It is also because of this amazing customer experience that Lindy Bop continues to grow and dominant the vintage clothing arena.