Learn More About ledbury.com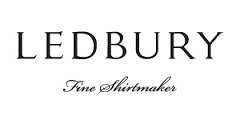 Based Richmond, Virginia, Ledbury is a men's apparel company that specializes in luxury men's dress shirts, casual shirts and related accessories. The company believes in the fact that a few but well-made items are better than many and of low quality. They aim to design trend setting pieces with great-fitting, high quality, and comfortable enough to be work in any setting with class and style. Although the company is Virginia based, the makers met in London where both of them worked with some shirt makers. Following the advice of their mentor, they both moved back to their roots and started their own company named Ledbury. With a great experience with shirts, buttons, collars, and cuffs, these two men have been changing the trends in the fashion world with their amazing designs and high quality products for men.
.Offering fit of a made-to-measure shirt with the convenience of ready-to-wear. The shirts sold at Ledbury are all sized by collar and sleeve length. They can be shortened by the in-house tailor who is an expert in fitting shirts. The company offers two fits, Classic Fit shirt and Slim Fit shirts. Classic Fit shirts provide the comfort of a full cut shirt whereas the Slim Fit shirt gives an ideal tailored look.
Defining the new style for men, the company ensures high quality products which are made with the finest European fabrics, finished with Mother-of-Pearl buttons, and constructed in small European factories by tailors whose understanding of quality and craftsmanship has been passed down for generations.
Not just that, Ledbury has been innovating new shirts for the comfort of men. Their shirts are designed and stitched with careful consideration to provide the best to the customers. A lowered second button creates the perfect "V" at the neckline, and prevents the shirt from being buttoned too high or too low. The collars of the shirts have a unique, canvassed interlining that keeps them standing tall under a sweater or sport coat.
The wide collection of products offered by the store includes Mens Dress Shirts, Mens Casual Shirts, Sportcoats and Blazers, Belts, Ties, Pocket Squares, Scarves, Socks and all the other accessories needed for a man to look classy and perfect. The online store allows men to shop without the hurdles of going to a shop and choosing the right shirt for themselves. All they need to do is sit infront of their laptop screens and find the perfect shirt. The website allows you to look into the details of the shirts, choose the best size, and the suitable way of payment.
As the company believes in the safety of the customers, it uses special algorithms to secure the personal information provided by the customers to the company. It means that no third party can steal or use the information other than the company and that too only for the delivery and shopping purposes.
Visit us for more details: www.ledbury.com