Learn More About kinguin.net
Gamers love playing all of the latest entertainment options, whether it is on their phone, on their portable sets, or through their gaming systems. For anyone that is playing casually or highly involved in this activity, though, there is a clear understanding that the cost of playing can be very burdensome, as some games cost hundreds of dollars from the start. That is exactly why Kinguin was founded, to provide a location where gamers could get what they needed for an amazing entertainment experience without breaking the bank in the process. Kinguin is an online marketplace where buyers and sellers from around the world can come together to do business. The mission of the brands is to provide a location for gamers to interact and find their games in an environment that highlights privacy and trust. Founded in 2013, this is exactly what the site has been delivered on with each transaction. The brand has grown in its popularity in the last few years, boasting millions of users throughout the world. This is impressive considering the site is relatively new and has large competitors in the market already. But, it highlights the brand's belief that if treating the customer is the way to brand expansion, then that is what they will deliver upon and what they do with each transaction.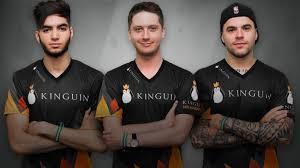 Kinguin has several different games available for download and for sharing. The site is downloaded by genre, which gamers can go to in order to find the specific game or the type of game that they want and enjoy playing. There is action, roleplaying, simulation, and arcade style to name a few. Further, there are platform purchases and categories as well as skins available, too. For those who want to sell their games or key codes, this is made simple as well. The site allows users to create an account and start selling in a matter of a few minutes. The reason that Kinguin has been able to grow in their membership is because of how secure they have made the site and their policies which lean toward making the consumer happy. Kinguin provides all individuals a chance for a thirty-day money-back guarantee that allows them to buy and sell with trust. Further, all payment methods—of which major credit card and internet payment is accepted—are kept secure during the transaction process. Kinguin wants those who utilize their site to feel safe and trusted in their transactions so they do everything in their power to make that happen. Kinguin, however, is more than just an online marketplace in which games can be purchased and sold. It is a company that is focused on giving back as well. There are several events held by the company annually in order to provide charitable ends to those in their own community. The site offers gaming tournaments like those aptly named the Kinguin for Charity Tournaments which are made possible through a charity partnership with the Child's Play Foundation. This allows thousands to be given to the organization which aids children who are suffering from illness. They have also attempted to get into the Guinness World Record book through a series of tournaments as well. This high level of charity-focus and customer interaction provides a level of interaction that the consumer base enjoys.