Learn More About keurig.com

Keurig is a beverage brewing system used at homes and also commercially. Manufactured by the American company Keurig Green Mountain, which is headquartered in Waterbury, Vermont, Keurig has been reaching new heights of success since years. They have a verity of products which includes K-Cup pods, which are single-serve coffee containers; other beverage pods; and the proprietary machines that brew the beverages in these pods. Keurig beverage varieties include hot and cold coffees, teas, cocoas, dairy-based beverages, lemonades, cider, and fruit-based drinks. Keurig has over 400 different varieties and over 60 brands of coffee and other beverages. In addition to K-Cup pods it includes Vue, Rivo, Bolt, K-Carafe, and K-Mug pods as well.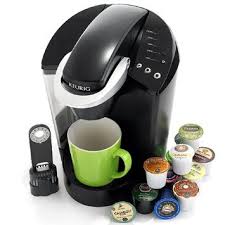 Founded in 1992 in Massachusetts, Keurig is the original single-serve brewer and coffee-pod manufacturing company. It launched its first brewers and K-Cup pods in 1998, targeting the office market while brewers for home use were added in 2004. In 2006 , Vermont-based specialty-coffee company Green Mountain Coffee Roasters joined Keurig, resulting in a successful growth for both the companies. In September, 20015 Keurig entered the cold-beverage market with Brew Over Ice, and with Keurig Kold, and it entered the soup market with a line of Campbell's Soup K-Cups which also launched in September 2015.
As of 2015, brands owned by Keurig/Keurig Green Mountain, and used in its K-Cup and other pods, include:
· Green Mountain Coffee
· Green Mountain Naturals
· Barista Prima Coffeehouse
· Café Escapes
· Coffee People
· Diedrich Coffee
· Donut House Collection
· The Original Donut Shop
· Revv
· Timothy's World Coffee
· Tully's Coffee
· Van Houtte
· Vitamin Burst
Over the years, Keurig has won many awards for its excellent services and products. Some of them are:
· Keurig has been named Single Serve Coffee Maker Brand of the Year for four consecutive years from 2012–2015 by the Harris Poll EquiTrend Study.
· 2013 "Best All Around" in Best Single-Serve Coffeemakers – Keurig Vue (Good Housekeeping Research Institute)
· 2013 Edison Awards Gold Award for Consumer Packaged Goods, Beverage Preparation – Keurig Vue
· 2014 Top 10 Breakaway Brands (Landor Associates)
· 2014 Food and Beverage Innovators Award – Bolt Packs (National Restaurant Association)
· 2014 U.S. 500 Most Valuable Brands (Brand Finance)
· Most Recommended Single Serve Pod Coffee Maker 2014 (Women's Choice Award)
· 50 Best U.S. Manufacturers 2014 (IndustryWeek)
The company also operates an online website that enables users to order items just by a click. All the items available are displayed on the website along with all the details and descriptions for customers to choose the best one. The helping staff at the customer care service is also available all the time to help out the customers and treat them like a family.We are always here to help in whatever way we can regarding our goods and services. Do not hesitate to contact us the moment you have an issue or a query, and we will happily facilitate you every time to ensure you are kept satisfied and happy with what we have. You won't get such a service anywhere else
For more information about our product line, offers, updates, orders, and so much more, visit us athttp://www.keurig.com/