Learn More About jurawatches.co.uk

When it comes to luxury watches and the best time pieces in the world, nothing beats the industrious and meticulous Swiss in maintaining such class, craft, style, and attention to detail for centuries now. Swiss watches are known throughout the world and the various brands all have a unique value as both collector's items and personal fashion. Many of these watches cost a small fortune given their value due to their exquisite designs and intricate engineering by the renowned Swiss manufacturers. What if there was a place where you could see all the finest Swiss timepieces to buy online. Well, Jura Watches is just the place for you.
Since 2007, Jura Watches have been the ultimate retailers in the finest Swiss watches in the UK with our 10 watch boutiques across the country attracting a lot of praise for their class and fine collections, alongside our much praised online retail website. The name Jura comes from the Swiss region of the same name that lies between Geneva and Bern in Switzerland. Some of the Jura Watches collections include the best of Bell & Ross, Bremont, Graham, Sinn, Oris, U-Boat, Baume & Mericer, Grand Seiko, Ebel, Hamilton, Fortis, TAG Heuer, Longines, Bretling and many more watches. We stock a unique range of contemporary watches combined with a buying experience enhanced by innovative technology. Jura Watches have helped introduce many of these brands to the UK and our frequent store events have always been for all customers new and old to marvel and take interest in the latest collections being released. In 2010 we launched our 'virtual watch' application, which allowed you to try on a watch at home in front of your computer, using just your web cam. This augmented reality technology is cutting edge and we were the first company to launch such a web-based app. Today we are in partnership with CW Sellors who sell fine Swiss watches and jewellery across the UK and can also be found under their banner.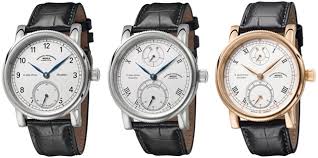 Just register a free account on the Jura Watches website, see all our watches and other items based on type, brand, material, and price, place your order, and pay for it safely and securely through any major credit card and other means. Buying from us means we offer the genuine stamped warranty from all manufacturers as their authorised dealers, and we even include a free watch winder for any orders above £1,000. Any orders made before 1pm get a fully insured free next day delivery across the UK, with a complimentary luxury gift wrap as well free watch sizing service when you place your order to ensure it fits the moment you wear it. You can also finance your purchase online with 0% interest after a 10% deposit. If, however, you are not satisfied with your order then you can always return our items within 30 days for free as long as it wasn't specially customised and has the original receipt, packing, and any contents that came with it. What more can you ask for?
We also value our customers immensely and are always here to help in whatever way we can regarding our goods and services. Do not hesitate to contact us the moment you have an issue or a query, and we will happily facilitate you every time to ensure you are kept satisfied and happy with what we have. You won't get such a service anywhere else for the best watch experts in town who will always help you in how to take care of your prized watch and how to best use it too.
For more information, visit our official website to see our latest offerings.https://www.jurawatches.co.uk