Learn More About jofit.com
Athletic wear for women tends to be in two camps: the big and bulky sweatpants look that covers the body and leaves it feeling bulky but still functioning or those style choices that are sexy and flirty but provide no movement ability for the women actually trying to work out. This was the case, of course, until Jofit was created. Jofit is a company that embraces womanly curves and strength, combining the different looks and styles that every woman wants in their athletic attire.

Jofit is an athletic wear company that was created with women in mind. Founded by Joanne "Jo" Cloak, the goal was to create clothing that was for women because it was designed by women who understood the needs and wants of the female market. The goal is not to hold women back with stylistically lacking workout options or those that do little more than look good without feeling right. That is exactly why Jofit was founded and where the company continues to head in their product development. Just because Jofit is an athletic clothing and accessories company does not mean that that is the only reason that women choose to purchase from them. On the contrary, the clothing through their company is stylish enough that it can transition into a busy daily lifestyle. Whether running errands or jogging on a beautiful trail, Jofit can meet the style needs by creating a look that transitions just as well as the women who wear them. Styles can be found online via their great website or through one of the different network of stores that carries their clothing line. Jofit offers a wide range of different pieces and styles that women of all ages can incorporate into their athletic wear. Not only that, but purchasing is made easy with their amazingly sophisticated and clean website. Those that want can shop by either collection or genre of pieces. Collections are broken down into different themes, such as Hawaiian or Sea Breeze. These collections have color themes, making them a great addition to anyone's wardrobe who was looking for a particular hue.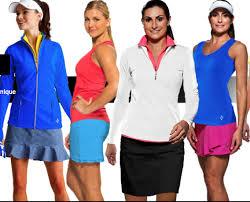 A quick look at the pages of the website will demonstrate that the clothing and styles are great for those that want to hit the courts or need an elevated style in their workout wear. The clothing options are tailored and sophisticated, while still functional. The site offers tank tops and collared shirts that look like any other that may be found in a department store or online boutique. Yet, the stretchy fabrics of these and the mini skirts make it a great choice for those that want something that is beautiful and functional. Jofit knows and understands that women spend a lot on their wardrobes and can use a bit of a break now and then. That is why the site offers great deals and percentages off in many of their clothing collections. As one is becoming discontinued and a new line taking its place, women can save drastically on the outgoing pieces. Further, the Jofit company believes in building a brand that is catered to women who care about their bodies and their budgets. That is why they have an email list that is open to women who want to hear first about great deals. Those who wish to learn more should be sure to check it out and see where they can save money on their next favorite workout purchase. Jofit knows and understands that customers come first and that is exactly a motto that can be seen throughout their site and in all of their consumer interactions. Jofit buyers have customer service representatives that are well-versed in product knowledge and highly accessible through the site. They welcome any questions and can provide clear direction on what to expect and how to achieve it. Those that have issues or need more information should not hesitate to reach out.