Expiring Joe Button Promo Codes . Good luck!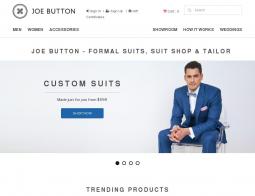 Visit joebutton.com
Joe Button website view
Ever heard of custom clothing online? Yes, it's possible these days with brands like Joe Button. The brand aims to provide men and women with apparels that match the highest quality standards with tailored concept. Started in the year 2010 by two childhood friends, Modi Song and Melissa Lee, the brand forays into classic design with quality workmanship. The best part is that apart from showing offline presence in Australia, the brand has made its presence in the online sector too. You can simply customize your clothes by just clicking your mouse and you are good to go. All you have to do is select a garment with the fabric of your choice, select a sizing method, customize by selecting every detail of the suit, from the number of buttons to the color of the lining and lastly get the measurement with simple and easy step-by-step guide. Voila! The company will deliver your favourite piece right at your doorstep.