Learn More About janieandjack.com
Janie and Jack is children's clothing retailer having stores countrywide. It has timeless clothing features for children and fine fabrics not leaving out the hand-sewn details available in different sizes. Clothes for the newborn to 12 years are sold online while those for the newborn to 6 years are available on store. The Janie-And-Jack shops give a unique boutique experience that you can never get anywhere else. This store offers classic designer clothing for children at affordable prices. The clothing are available for all weather and seasons. Whether it is in summer or winter, you can always get the clothes recommended for the season here. Janie-And-Jack belongs to the Gymboree Corporation which is a specialty retailer, running stores dealing in high quality apparel or clothing and accessories for young children under Gymboree outlet, Gymboree, Janie-And-Jack, Crazy 8 brand and other play programs for children through the Gymboree Play and Music band. The Gymboree play and music programs offer children under the age of five years an opportunity to explore play and learn in a very innovative parent-child program. It offers an array of classes invented by early childhood experts and professionals. Birthday parties and developmental toys are an important part of the curriculum of these early childhood development classes. There are lots of books to orient the children to reading and music for the children's leisure. Gymboree play and music classes are located in more than 172 franchised and its own operated centers throughout the United States, Canada and in 40 other countries across the world.The store has been dressing children under Gymboree since the year 1986. It has been offering colorful, high quality clothing designs up to size 12 online, then up to size 6 in retail shops. There are heirloom-quality looks of clothes and finely-crafted details for example hand-embroidery, special prints and hand smocking. Janie-And-Jack has one online store and about 133 retail shops throughout the United States.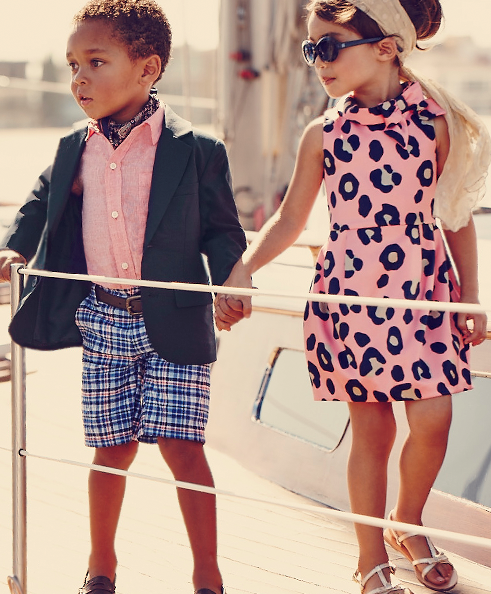 The stores offer different kinds of gift cards for regular customers and bulk buying customers. There are traditional gift cards and E-Gift cards. The traditional gift cards are given to those who purchase goods directly from the store while the E-Gift cards are given to buyers who make online purchases. The gift cards can be redeemed and give you the ability to acquire apparel and other accessories from the store. The store has different collections of clothes such as The First Cruise, Pirouette Petals, Coastal White, Getaway Blooms, Swiss Chalet, Prima Ballerina, French Lavender and Starry Night all for the baby girl. There are also collections for boys up to 12 years of age such as The Pacific Cove, Snowflake, Railway Dapper, Standout Sailor, evergreen Charm, Highlands Walk, Nordic blue and Aspen lodge. These collections of goods are available online only at discounted prices since there is no haggling through the online shopping center. There are also free shipping services at your disposal once you purchase the products from the store and you need them delivered within the US. Many different means of making payments are accepted by the store. Online means of Payment have been ensured to be secure enough for you. Your financial and social information are not shared with anyone or any company.