Expiring HostelBookers.com Vouchers . Good luck!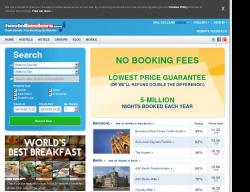 Visit hostelbookers.com
Related Categories
HostelBookers.com website view
HostelBookers is a global hostel booking platform that is a part of the Hostelworld Group. Besides, HostelBookers the Hostelworld Group has other platforms like the Hostelworld as well as the Hostels.com in its portfolio. At present, the Group is operating in 19 different languages. HostelBookers connects the young travelers from across the world. The group collectively has some eight million reviews in over 170 countries across its 33,000 properties. Its customers are not just any other average tourists rather all the customers from the HostelBookers and the Group crave for experiences and not just souvenirs. HostelBookers wishes to be in the heart of every action. Today, the group has become the leading hostel focused brand among the target audience. Over 90% of the audience of the HostelBookers is aged under 35. It was in the year 2015 when the Hostelworld Group got public and got itself listed on the Dublin and the main London stock exchange.