Learn More About hemashop.com

Founded in 1926, HEMA is a company focused upon home decor and utilities. Its first store was opened in Central Amsterdam, Holland based upon the dime store principle. HEMA stands for,HollandscheEenheidsprijzenMaatschappijAmsterdam. In 1958 HEMA started to expand its stores across Netherlands and in 1984, HEMA stepped into the international market opening its first international store in Belgium. Following the international trend of globalization, HEMA has now expanded its businesses in Netherlands, Belgium, Luxemburg, Germany, France, the United Kingdom and Spain. It focuses primarily upon the European market.
The company manufactures all of its products indigenously, moreover all the products in their inventory have an essence of simplicity and craftsmanship which is the recognition of HEMA. The company started its online operation in 2010 and has been providing excellent services since then. HEMA is part of Lion Capital since 2007 which is an investment agency with its sole focus upon the consumer market. Every products which is sold at the HEMA stores is designed at its design centre in the Netherlands. The company is famous for giving an extraordinary touch to all its products. Being in business for 96 years, the brand logo of HEMA has undergone 20 design changes based upon the era. Currently, the company uses it name in white on a red background as its logo. Today HEMA operates more than 700 stores in 7 different countries.
The HEMA online store contains all the products which are manufactured and sold by HEMA thus giving people a chance to buy its products globally. The site contains products related to cooking and dining, home & living, stationery, leisure, bedroom, bathroom, beauty, women and men clothing and apparel. Any products purchased from the online store can be expected to arrive within four to nine working days. On top of that, the company provides a 30 day return policy for products. Being a top notch manufacturer of products, the customers can stay assured about the quality of the products being delivered.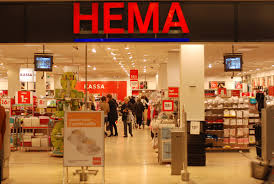 The products in the HEMA store contain items ranging from kids apparel, kitchenware, stationery items, camping and party supplies, to personal and facial care products like eyeliners and creams. The HEMA online store can be seen as a large sized online store with a huge inventory of products to cater the needs of everyone.
The extensive product line of the company reflects its brand reputation and experience in the industry. Apart from being a primitive wholesaler and retailer of home and living products, HEMA has also tried to focus upon the clothing and apparel market. The site also offers men and women clothing and accessories with a wide range of products to choose from. All the products on HEMA's website are rigorously tested before being available for sale. HEMA aspires make its products higher in quality while keeping the prices surprisingly low.
The company has also decided to address its responsibility towards the environment by including sustainability into its mission statement. HEMA aims at widening its range of sustainable products and limiting the environment carbon footprint caused by its production chain.