Learn More About haggar.com

Haggar Clothing Co was found in 1926 in Dallas, Texas, it was at first a men's fine dress pants and slacks, and has grown to become one of the most recognized and original clothing brands in the world. Haggar continued to lead men's wear fashion by introducing pre-cuffed pants, wrinkle-free cotton pants, expandable waist pants, wash and wear pants, and forever-prest pants. Haggar was the first to appear on TV, national magazines, ship pants, and offers jackets and pants as suit separates. In addition to that, Haggar developed a highly successful and eco-friendly brand called LK Life Khaki. Haggar has been the leader in men's dress pants in the United States, and the second leading company of men's casual pants. It is the leader for men's clothing for more than 85 years. LK Life Khaki is one of the brands of Haggar. It provides a classic casual look and helps you get through any situation. It uses a blend of cotton and upcycled fibers, each one of their pants contains about seven plastic bottles, which makes Haggar the number one menswear manufacturer that helps design clothes by reducing waste and protects natural resources. LK Life Khaki offers a wide range of high-quality clothing to men of every age.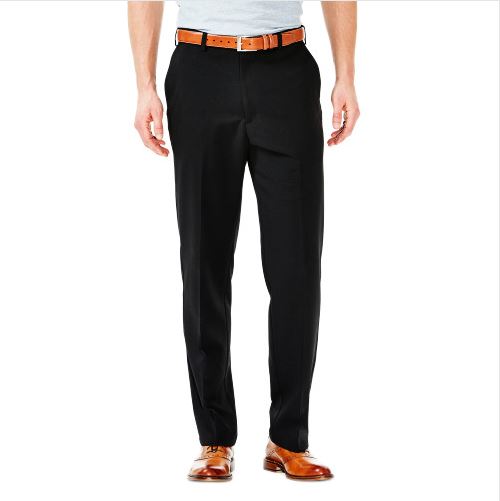 Haggar Q Guarantee will cover any defect in materials or workmanship of any Haggar garment. To know if customers have purchased à Q item, you will find Q written inside of it. Haggar will repair the product or replace it with no charges. If the product is still made by Hagar, they will send them another one, if not, they will send you a similar product. To get that service, all they need to do is complete a claim providing your information on Haggar's website, then they should send the product to the brand. The Haggar Guarantee doesn't cover damages to the products due to rips, holes or burns. On the website, shopping is made easy.
Customers can choose items by going through specific categories. Haggar offers a wide range of pants, going from casual to dress pants, expandable waist, denim, chinos and much more. They also have shorts for a weekend or casual look. Customers can find suits separates or suit vests to purchase from, according to their size and how much they can afford. There are special clothes for big and tall men, including pants, vests, and suits. Many tops are also available, going from dress to casual shirts and even sweaters. For the athletes, customers can purchase sports coats, but also many ties and belts are available to complement your style. On their website, customers can also find new arrivals of pants, shorts, sports coats, and shirts.
Haggar makes sure to find the best fit for its customers. Customers can find a classic fit, featuring a straight leg, sits at the waist and eased through seat and thigh pants. A straight fit is also available, with a straight through seat and thigh and straight leg pants. Slim fit can also be found with slim through the thigh and tapered leg pants.