Learn More About habbo.com

Habbo is simply a great way for all children to spend their free time and have fun. This is for all children of age 13 and above and for all of those younger that this age limit, it is not permitted to open account on their website. This game occurs in online hotels environment and all players have their own avatars names Habbos. They can use Public Rooms for all players and Guest Room which are private. Their features also include furniture and virtual pets all players can choose to have, along with many games. All players can create their online games and events, such as competitions and others. Creating account, using Habbo hotel and also Public rooms is free, but their website charges some features, such as furniture and subscription to the Habbo club.This is not only great solutions for children's spending of free time, but also great way for their creativity and developing social skills since they are interacting with other users. Their website is easy t navigate and has fast page loading time. One can easily make account or log in with entering email and password in the boxes shown on top of the main webpage. One can also choose to login through his own Facebook profile and this makes it even faster to check in. Below these links, one can use community link in order to see great photos taken by other Habbos, links to their fansites definitely worth checking out, along with news about new games, campaigns and much more.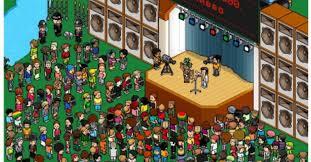 Beside this Community link, one should check out their Habbomall and Playing Habbo sections too. Habbomall gives insight into all offers for buying credits, subscribing, getting repaid and also opportunity for any player to always see his history. For all of those who are new on this website, section that must be visited is Playing Habbo and here one can get all the information he needs about this great game. They offer description of the game, tips all children can use during playing this and also guidelines for parents regarding the customer support and helpdesk pages.On bottom of the page one can see links that are very helpful, such as mentioned customer support and helpdesk. Here one can see answers to most common questions and also submit a new answer. Beside this link, they provide great safety tips for protecting personal information, customer support for parents, terms of service and their email. For all of the parents who are worried about their kids and potential danger of online games, there is no need for such ting with the Habbo. All parents can find any information they need about this game and its parts that are not free f charge. They can find all answers to the most frequently asked questions, such as safety of their kids while playing Habbo, blocking their phone from purchases for credit on their website and much more. This is simply the safe online platform for any kid and all guidelines they provide to all of them and their parents prove that children's security is something they thought of from the beginning. Habbo is considered to be the best and this is not only opinion of many kids all around the world, but their parents also agree with them.