Learn More About greatlittlebreaks.com
Great Little Breaks, formed by the division of Hotelshop UK Ltd. is a private firm based in Droitwich, Worcestershire, UK. The firm only deals with 3-5 star hotels which provide comfortable accommodations and short breaks for both kind of travelers, leisure or business. The firm caters to every need of the customers providing basic amenities such as front-end, 24 hours service, parking area, pick and drop facilities, etc.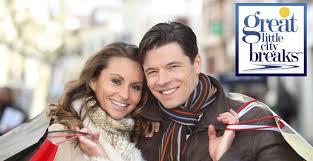 The company knows that the first impression really counts. The beautiful and exotic entrances make customers attracted towards the hotels. The beautifying agents in the entrance define its beautiful interiors. Lavish décor and exquisite furbishing makes an impression which compels a customer to return back to the hotel. Spacious rooms with excellent furnishing, cozy bedrooms and hygienic bathrooms are the main requirements when a guest arrives in your hotel. Here, the hotels have 24 hours of service facility that caters to the needs of the customers at the earliest. To enhance the satisfaction levels of its customers, the staff always strives to deliver them valuable services. Bad service is a big turn off for any customer. Hotelshop UK Ltd has achieved ISO 9001 which recognizes Hotelshop UK's commitment to the provision of exceptional quality service. Being a reputed member of ABTA, the company is known for offering reliable and authenticated services to its visitors. The package the firm sells includes flight fares and accommodation, which is given to the customers in the fair amount. The 'Double delight plans' is also an amazing scheme where a customer gets maximum benefits. The staff members at the call centre are vigorously trained to provide you with almost every kind of assistance you need regarding the availability of the rooms in a hotel. The best value for money is guaranteed completely by the company. Under a scheme named 'Price Promise', they claim that if a customer finds a hotel of the same specifications at a lower cost, they would refund back the difference to the customer. At Great Little Breaks, you can plan your trip on the basis of your favorite city, country, gourmets, etc. The firm works with 500 group hotels all over the world that brings the negotiated rates for your group break. With a huge selection of 2 star, 3 star and 4 star hotels, inns and apartments, Great little Breaks can offer properties that perfectly fit your requirements in terms of quality, facilities, location and budget. Great Little Breaks gives you a discount if you are a group of more than 10 people and your hotel charges may be considered as negligible. On a group break, you can get access to ferries, various resorts, parties, etc at discounted rates. Great little breaks, is a perfect stop for you if you wish to travel with no hassles and have a comfortable stay.