Learn More About grammarly.com

For most of the world using the most popular word processor that comes built in with Microsoft is the farthest we are willing to go to when it comes to checking how we are faring in terms of our Grammar. And while most are content with this situation, it often takes someone with vision to see the glaring holes.
The fact is that Word is not the most reliable when it comes to the modern communication standards and while it is built on sturdy lines of credible Grammar rules, it does not have the know-how to detect in-sentence usage or pick up where there is a wrong connotation in the actual sentences. This is what founders of Grammarly witnessed and subsequently they came up with a solution to tackle the problem as well. Alex Shevchenko and Max Lytvyn came up with the idea in 2009 and the venture has grown significantly, with its headquarters now in San Francisco, which came about when the firm's current Chief Executive Brad Hoover joined after becoming an angel investor in the setup and helping it establish an overseas office as well as an additional office in Kiev, Ukraine.
The system, though, is extremely well renowned for its accuracy when it comes to Grammar and has gained a lot of plaudits subsequently, helping everyone from the average student to top journalists looking to augment their writing skills online. Overall, Grammarly carries out more than 250 Grammar checks as well as proof-reading the entire content, checking plagiarism in the process and finding possible errors that the user can later correct.
The text review phase is a particular highlight when using the software and makes it extremely easy for users to determine what is wrong with the text, which Grammatical infringements are being caused and how they can be fixed without stressing too much. Commonly confused words or faulty sentences are highlighted boldly in the red colour to help them stand out and a text box is also included which contains the exact infringement being highlighted and presented alongside recommendations that can help fix the situation. Such is the Grammatical prowess, that Grammarly provides citations when it detects plagiarism so that it can be changed and the system is always open to feedback, which can be provided by clicking on a thumbs up or down icon.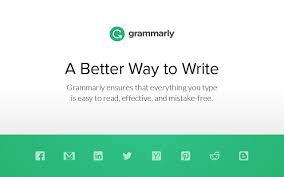 Other features of Grammarly include:
· A online grammar checker that can analyze and determine Grammatical errors in writing related to general, business, academic, technical, creative and casual fields: A core function that is often under looked in Word or worse, not properly checked, meaning that errors can be found even if other software are claiming the text to be hundred percent authentic in terms of it's Grammar.
· One of the most innovative features of Grammarly is that it can find misspelled words and can correctly locate words that have been incorrectly used in this sense. This highly intrusive feature means that you can preempt any possible errors that are obviously hard to locate and can fix the situation before landing in a conundrum.
· Accessibility is something which Grammarly has worked on extensively and their platform is very conducive; offering plug-ins for Microsoft Office, which allows it to be used on both Microsoft Word and Outlook.
· An online Grammarly Handbook resource covering what the Grammarly platform does in checking grammar and syntax.
· A Grammarly handbook is a handy resource that can come into particular use for the platform whilst checking Grammar and syntax, and can be consulted manually in case of any doubts.
· The software also offers Microsoft Chrome and Firefox extensions so that you can manage writing accurately whilst browsing the internet.
Overall, Grammarly has an extremely high market advantage and that it is intuitive, and can help solve problems that most other Word processors whether online or offline simply ignore or aren't capable of addressing.