Expiring Good Sam Club Coupon . Good luck!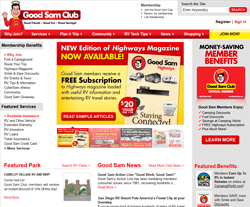 Visit goodsam.com
Good Sam Club Coupon website view
Good Sam Club was founded in the year 1966 by the Trail-R-News which is a small California RV magazine. It is the biggest organization in the world for the recreational vehicle (RV) owners. It is dedicated to ensuring that RVing is a safer and a rather more rewarding experience for all. At present, it has a total of over 1.65 million members in the Good Sam Club. The Good Sam Club was initiated with an objective to help the fellow travelers on America's highways. Even today, the halo as well as the broad smile of the Good Sam Club continues to signify the eagerness and the friendliness that it carries to be able to serve better and on a much larger scale. Even today there are some 1500 grassroots chapters in the Good Sam Club. These are spread from the Anchorage in Alaska, to the Okeechobee in Florida. Over the years, hundreds of the worthy causes have been benefited via the fundraising efforts of the Good Sam Club.