Staff Picks to help you save even more at Golf Shoes Plus
Expiring Golf Shoes Plus Coupon . Good luck!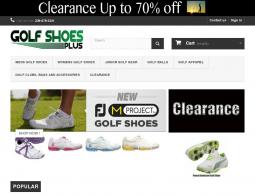 Visit golfshoesplus.com
Golf Shoes Plus Coupon website view
An all stop shop for your golf shoes needs, Golf Shoes Plus is an online store that offers a complete catalogue of golf shoe products and other accessories. With over 12,000 pairs of shoes in inventory and warehouse, the brand ensures that every shoe lover has something to look forward to. Find stylish golf shoes and active wear for men and women across brands like Foot-joy, Nike, Sketchers, Puma, Ashworth, Oakley and Adidas or shop for junior golf shoes and gear from other leading brands. Shoes are available across categories like Pro, Wedge, Blade and Elite from Sketchers and Dry Joys, Green Joys, Casual Contour from Foot Joy. A special range of golf balls can be purchased from brands like Nike, Bridgestone, Titleist, Wilson and Pinnacle among others. The store also features a host of golf bags and clubs, accessories and golf related apparels including outwear, headwear along with shirts.