Learn More About eu.gasjeans.com
Gas Jeans is a leading brand of apparels and denims located in North-East Italy. The company was born in the earlier phase in seventies by Claudio Grotto. The versatility of the products is the main attraction of the company. It has a vast collection of apparels for men, women and children. They have been building such exotic designs that have unique taste and recognizable appearance. For more than 30 years, the company is bringing new trends and has become a trademark for every apparel retailer. The apparels are designed with a blend of Italian fashion and the other prevalent worldwide trends. The company has been running its business in 56 countries and consists of more than 3000 stores across the world. The brand has a large celebrity following. There is always a corner for this reputed brand in various journals and magazines.
The company has got a lot to offer to the men, women and children falling between the age 3 and 7 years, and 8 and 17 years. In order to spread zealous vibes all around, the firm chose 'the double rainbow' as its official logo. Gas Jeans has partnered itself with 'Repsol Honda Moto GP' team, along with many champion sponsors such as Mick Doohan, Valentino Rossi, Nicky Hayden, Dovizioso, Casey Stoner, and many more. Delivering quality product is the primary motto of the company. The company's vision is to expand its business in Europe and Far East.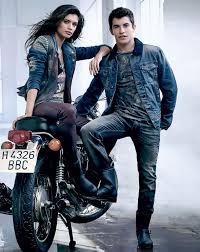 There is wide variety of seasonal apparels including shorts, t-shirts, jackets, trousers & chinos and accessories which not only have unique designs but are also made up of comfortable linen. The company mainly deals in denim and the artists are hired from all over the world to implement their homeland's tradition and culture in the designs they produce. The metallic finish of denim clothes are in high demand throughout the year. Comfy fabric and beautiful color combination makes a cloth unique and versatile. The company caters to the needs of their customers by providing unique designs without compromising with the quality of the product. The dedicated team of the firm has introduced a new service of withdrawal. If a customer isn't satisfied with the product he/she received, he/she can request for withdrawal within 14 working days from the day he just received the package. As a result, the entire cost of the product will be refunded back to the customer. Do you want to embrace such designs in your closet? Log on to the website and place your orders now. Show off to your peers and become a fashion icon at your workplace and other parties as well. Subscribe to the firm's you tube channel for receiving amazing fashion tips and tricks of styling your old stuff in various attractive ways.