Expiring For Small Hands Coupon . Good luck!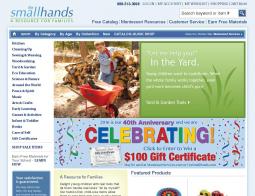 Visit forsmallhands.com
For Small Hands Coupon website view
Ever since your child could walk, he tried to copy you in everything you do. This can create frustration for a child because, let's face it, some tasks are only for adults; especially when adult-sized tools are the only ones available. For Small Hands aims to change that for your child by offering kid-sized items that make it easy for him to do just about anything all by himself. It's an incredible feeling when your child learns how to pour his own drink in the morning, or how to help you sweep your kitchen floor after dinner. For Small Hands empowers kids to help with family chores and every day jobs that they want to be a part of. They also offer a variety of craft kits that make it easy for your child to create something beautiful for Mommy or Daddy all on his own. Their innovative designs are wonderful confidence boosters, and a strong sense of self-confidence is the best foundation.