Learn More About fnp.com-31125

Ferns N Petals were started in the year 1994 with a single store in Delhi. It is believed that the culture of gifting flowers in the country was established by Ferns N Petals. And, since its establishment, it has grown a lot as it emphasises more on the customers' delight and constantly aspires to deliver exclusivity to them. This flower and gifting industry now has more than 200 outlets in the 85 cities across India and provides fresh flowers for every occasion including parties, weddings and any other the day of your life. It not just delivers flowers in India but across the globe also. It has also received many awards and recognitions for the quality service it has been delivering for years. One can always rely on this world's largest floral chain to make their occasions special and memorable. To become a case study in all business schools is the main mission of Ferns N Petals. Firstly, it started with a flower bouquet delivery service and with the passage of time, it grew from the delivery of flowers to the personalised gifts, chocolates, jewellery and cakes with fresh cut flowers and artificial flowers. It has the best quality service providers to offer an unmatched distribution network across the globe. And therefore, it has 4 million happy customers from all over the world.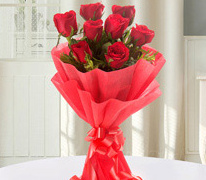 It has the real florist network chain across India and doesn't work with any third party for the delivery of its orders. The wide range of fresh cut flowers with Ferns N Petals includes roses, orchids, lilies, daisies, carnations, tulips and much more that can be designed in the form as requested by the customers. This florist shop deals in offering many types of services to its customers, be it bunches, bouquets or other special flower arrangements. Other than the flowers, it also features the online cake delivery and other personalised gifts such as plants, greeting cards or soft toys for occasions like Mother's Day, Valentines Day, Raksha Bandhan, Friendship Day, Karwa Chauth, or Diwali that are delivered not only in India but internationally too. The whole Ferns N Petals group works as a family with all new enthusiasm and excitement. The employees there don't work as colleagues, but help each other as family members. Ferns N Petals always looks forward for great ideas that make working hours of its employees more fun-filled and productive. Flowers are the perfect gift for any occasion as these are the words that can be understood even by a baby and if the flowers are from Ferns N Petals, it makes the occasion more special and joyful. It aims at delivering the best service to its customers and their satisfaction is the main priority of Ferns N Petals. Moreover, those who live far away from their loved ones, distance is no more a problem now as Ferns N Petals is here for them to make their each and every occasion so special. One can always surprise his/her loved ones with the beautiful gifting ideas provided by Ferns N Petals. The personalised mugs, cushions, bottles and cakes are sufficient to make any occasion memorable that can be cherished for a lifetime. It provides home décor service as per the requirement of its customers. Due to its expert knowledge, creative and unique ideas and excellent service of personalised gifts and flowers, it is now known as the most trusted, popular and innovative store that also has a contribution towards local economies.