Learn More About flowercard.co.uk

Flowercard, a unique gifting idea began way back in the year 2000. The idea of sending garden fresh handpicked flowers in artist designed cards soon clicked and now it's been 16 long years and they have processed more than 1 million orders and still counting. They source their flowers from the beautiful and breezy Channel Island of Guernsey which is famous for its high quality fragrant flowers. Every flowercard comes with a water tight guarantee so that it brings smiles. Their consistently high scores on Feefo hold a testimony to the fact that they do their job really well.
Every flowercard is made to order by choosing the best fresh flowers in the world. The miniature flower arrangement is done by the skilled British florists and carefully placed in a sealed oasis base. The flower arrangement can be placed in a flowercard, flower box, teacup, flower bottle or a flower tin depending upon the customer's choice. The perfect finishing touch is given by the heartfelt personal message that is printed on the card. For the ease of customers the flowercard products are divided into categories such as anniversary, wedding, engagement, new home, new baby, birthday, retirement and new job.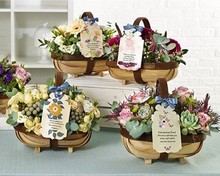 The floral greetings are also segregated according to sentiments like thank you or thinking of you, get well soon or congratulations cards to help you choose easily. They also have different styles of design like contemporary, vintage, floral, nature and graphic. Delicate and beautiful flowers like roses, veronica plus, lisianthus and hypericum are primarily used for the flower arrangement. To complement the look, foliage and greenery like ferns and succulents teamed up with craspedia, brunia, carnations and arabicum are used by the professional florists to create a stunning piece that leaves a long lasting impression. You can enjoy the beauty of these flowers for up to two weeks by adding water through a pipette that comes with the card. Similarly the cards of Flowercards are also made painstakingly. They are hand painted by experienced British artists using water colours.
Flower card has also joined hands with British chocolatiers Sent With A Loving Kiss to expand their portfolio and give a more elaborate choice to their customers. They have created the same magic with these luxury chocolates as with their flowercards. And it does not stop here, they have taken corporate gifting to an all new high. Flowercards are indeed a perfect way to express your gratitude towards a client, colleague, staff members or partners. Their dedicated corporate gift team is always there to help you create a perfect combination with prices starting from just £10.83. They even offer bespoke corporate gifting wherein they can create cards that celebrate your brand teamed up with flowers in matching corporate colours. Even the tins of flowers and chocolates can also be customized with unique label designs. Flowercard has also introduced fresh plants to their collection that can be removed from the tin and planted elsewhere so that you can enjoy them long after the special occasion.
Flowercards are therefore a unique gifting idea that is will definitely bring a smile on your face.