Learn More About flipbelt.com

Staying fit and healthy is the most important task in today's era, for which most people work out, go on to diets, eat healthy food, avoid a sedentary lifestyle and much more. With most of the people having sitting jobs for a longer duration, the need to go out for running and walking is increasing day by day. But due to too much involvement of work and people in lives, it gets really impossible to step out of the home without a mobile phone, money, and the home keys when one needs to go out for a walk for even 30 minutes. All these things when carried in hand makes exercising more complicated and cumbersome. For such scheduled lifestyles, FlipBelt has come up with a fitness belt which is perfectly suitable for such styles. It is a perfect blend of fashion and fitness which offers the functionality to the customer while helping him/her to drape it in a fashionable way to even grocery stores. It is a substitute to bulky and heavy running armbands and running waist pouches. Quite opposite to the traditional old-fashioned solutions, the FlipBelt is light in weight, doesn't bounce, stays in place and comfortably fits all those essentialities which one needs for a particular time of the day. It's the perfect solution having multiple sections to carrying your phone, cash bills, driving license and keys while running or working out. Also, it has a special section to keep your emergency medications like inhaler or EpiPen safely which is easily accessible. The belt is stretchy and has a flat pocket design which allows you to easily slide in every essential item that you might need while exercising, from your phone like iPhone 6 and Nexus 5, keys, ID, cards, bills, medical devices and much more. The main function of the belt is to keep these items secured in place without uncomfortable bouncing which interferes while working out.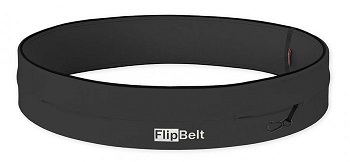 The FlipBelt is a fast wicking belt which dries quickly and is extra soft for more comfortability, the material is a blend of 92% micro poly and 8% lycra. It is easy to wash in automatic washing machine and slips on like a pair of pants. You need no buckles or fasteners to tie it that generally causes chafing or breaks the general belts. It easily fits under or over clothing and could be used without having any interference. It has been specially designed with multiple openings for easy use and all openings are easily accessible. It is also designed with 3M Quality reflective safety logo and the creativity of being a Flat waistband design avoids it from any kind of bounce, ride up or chafe. The flip belt is a much closer and appropriate alternative to running armbands and running pouches which don't fit everything perfectly and keep bouncing, thereby making it quite uncomfortable. Whether you're hitting the gym, going for hiking, running, traveling, or simply out for shopping, the FlipBelt offers you the opportunity to keep all your "must haves" secure and in reach while leveraging you to be comfortable hands-free and offers you the freedom of mobility. The flip belt is meant for all, irrespective of their age group, gender, and profession. It also does not pose any hindrance for one's waist size and fits all. The latest editions in zipper styles, with water bottle compartment, powered by motion edition and much more are all available on the website and in its retail stores.