Learn More About firemountaingems.com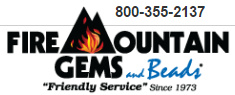 Every woman loves her precious jewels, but we rarely give a thought to what goes behind creating the masterpiece. The Fire Mountain Gems started in 1986 to provide you with the best beads that are made by creative designers across the globe. The company initially worked as a mail order business and then turned into a well-known company with direct marketing. It has been consistently growing in terms of business, employees and the variety of products. They import supplies for jewelry making from across the world and provide employment to thousands of people. The company sources the best beads from around the world and creates jewelry pieces that are one of a kind. You can purchase the jewelry or pick your favorite beads and bead them into a DIY jewelry. For finished jewelry, the company has bracelets, earrings, rings, pendants and necklaces. These can be bought for yourself or for gifting purposes. They have finished jewelry collection for everyday wear, Classic Collection, Boho Star Bracelets, Avant Garde Jewelry, Impact Bracelets, Impulse Bracelets and Create Compliments Jewelry. The finished jewelry is high on quality and is carefully made by the experts in the company. You can find a wide variety in the range that is ideal for everyday as well as every occasion. The company has jewelry supplies that are available in different gem stones and come in a wide range of colors. Its range in beads includes Swarovski crystals, acrylic beads, glass beads, metal beads, pearls, shell beads, wood and nuts and many more.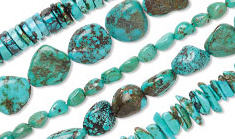 Fire Mountain Gems is a unique company that specializes in providing you with the best beads for making your jewelry, in addition, they also have finished jewelry that is ideal for yourself or for gifting purposes. The beads available from them are authentic and genuine, which makes them long lasting and ideal for your use. The company makes sure that you can purchase all the essentials for making jewelry. It can be beads, stringing material or supplies that enhance the look of your finished jewels. For stringing material, the company provides accu flex beading wire, power cord, thread and wire. The different types of wire wrapping wire include gold filled wire, sterling silver wire, sterling silver filed wire, wrapit wire and memory wire. Its jewelry supplies include charms, chains, headpins, findings, pendants, rhinestones, glues and glass working supplies, earring findings, bead caps and much more. If you have an idea of jewelry in your mind, all you need to do is purchase the beads, essentials and wire to make it a perfect piece of your favorite jewelry. You can also buy from their collection of items that ranges from wedding supplies, Christmas, bestsellers, assortments, bulk buys and much more. Sourced from the best brands, the products are high in quality and authentic as well. This makes them ideal for your purchase. They provide you with the best brands and have items available for every occasion and theme. Choose beads for Halloween, Graduation, Valentine's Day or Graduation and make the most of it.