Learn More About extravaluechecks.com

Whether you are a regular 9-to-5 worker, a freelance contractor, a business owner, or anyone else, you often need to use checks to handle various financial transactions. From handling bills, to making necessary payments, depositing and transferring money, and so forth. That means you need to have a bank account that allows transfer of money both ways and they often charge subscription fees for checks every year. For some it's not a big deal, for others it's a bit of an inconvenience given the varying and often exorbitant rates banks charge for such charges. You can always opt out of those services and ask someone else to make your checkbooks for a much smaller price!
Presenting Extra Value Checks, where you can make and design your own checkbooks for a much smaller price than your regular bank does for the same account! Having a personally designed or customised check speaks volumes of your personality, confidence, and sense of expression. A whole range and variety of business checks, personal checks, laser checks, checkbook covers, business cards, envelopes and other accessories can all be customised to your tastes by Extra Value Checks.
Over hundreds designs ranging from animals, sports, patriotism, landscapes, pop culture, value priced designs, and your own family pics can be uploaded and made into very attractive and artistic checkbooks. Even banks, companies and business hire our services for their checks. Extra Value Checks is a BBB accredited business and has a solid business rating of A+.
Just register a free account on the Extra Value Checks website, see all our products and services based on type, price, design (generic or customised by yourself), place your order, and pay for it safely and securely through any major credit card. Our checks are up to 50% cheaper than what you pay your banks to make them! Newly registered users can avail our various exclusive deals and discounts for their first buy on our website. Our website is GODADDY certified for protecting your personal information at all times.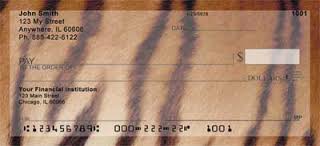 We offer UPS registered delivery for all checks as well as standard USPS for non-check products (rates variable). Orders usually are processed and delivered between 2-4 weeks for standard bulk deliveries and 6-10 business days for express ones across all 50 United States and Puerto Rico. While personal checks have free bulk mail deliveries, other items will be charged a shipping fee as stated on our website. Extra Value Checks at its sole discretion will replace or refund any product it deems defective but we do not accept returns on custom printed products. Extra Value Checks is not responsible for any typographical errors on any custom printed product submitted through our web system. If a refund is issued on a custom printed product, there is a 50% restocking fee that is applied to all orders. Extra Value Checks will accept returns on non-custom printed products within 21 days of the original sale date. There is a 25% restocking fee for all non-defective non custom printed products returned to Extra Value Checks.
We also value our customers immensely and are always here to help in whatever way we can regarding our goods and services. Do not hesitate to contact us the moment you have an issue or a query, and we will happily facilitate you every time to ensure you are kept satisfied and happy with what we have. You won't get such a service anywhere else for your custom designed checkbooks!
For more information, visit the Extra Value Checks official website to see our goods, services, offers, and much more.https://www.extravaluechecks.com