Staff Picks to help you save even more at Google Express
Expiring Google Express Promo Codes . Good luck!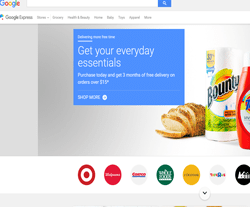 Visit google.com
Related Categories
Google Express website view
Want to speed up the shopping process? If you are looking to shop online and just get going, be sure to check out with Google Express! Google Express is designed to allow you to browse and shop major online retailers such as Target, Walgreens, Costco, GNC, Guitar Center, American Eagle, GAP.com, Old Navy, Google Play, L'Occitane, 1-800 Flowers.com, Cole Hardware, Google Play, Drugstore.com, Barnes & Noble, Sports Authority, Walgreens, CVS, Whole Foods and more. They also currently work with local stores and delivery companies to offer same-day delivery in the San Francisco Bay Area, West Los Angeles, and Manhattan. If you're in the same-day delivery area, you can select a delivery window. If you're in an overnight delivery area, there's no need to select a delivery window, just hang on and your order will be delivered within the estimated time frame. With Google Shopping Express membership, delivery is free on orders of $15 or more. New customers can also try the service out for free for three months.