Learn More About etihad.com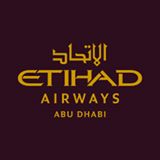 Etihad Airways is the national airline of the United Arab Emirates. It was established by Royal (Amiri) Decree in July 2003. Operations started from November 2003 and since then, Etihad Airways has developed into one of the fastest growing airlines in the history of commercial aviation. Etihad seeks to reflect the very best of Arabian hospitality cultured, considerate, warm and generous - as well as enhance the prestige of Abu Dhabi as a centre of hospitality between East and West. They aim to be a true 21st century global airline which will challenge and change the established conventions of airline hospitality.
Each year, they receive a range of awards that reflect their position as one of the world's leading premium airline brands, including 'World's Leading Airline' at the World Travel Awards for five consecutive years. Beyond the organic growth, collaborative growth is achieved through the development of a strong base of codeshare partnerships, and minority investments in strategically important airlines. Combined together, this provides access to hundreds of destinations which are not served by Etihad Airlines.
Etihad.com, you can plan and book flights, book rail tickets, bet travel insurance and also book flights with miles. You have the option to book a chauffeur, book for groups, Etihad Meet and Greet, book Stopovers, book a coach or book for an unaccompanied minor. There are options for multi city bookings, car bookings and even booking choices for extra legroom. All flight timetables are available and are regularly updated automatically. You can take a look at the fare choices and decide which the best is for you. There is The Residence, First Class, Business Class and the Economy Class, so you can go for whatever At you desire based on availability. Why wait until you're on board to start shopping?

Now you can receive a 10% discount when you shop for the latest fragrances, cosmetics, jewelery, watches and more and have them delivered directly to your seat on board. Select your choice of duty free products for your next flight and get 10% off the total amount of your pre-order. Simply mail dutyfree@etihad.ae with your choice of products, complete travel details and flight number. Please allow at least 72 hours to process orders.
When you are on board Etihad Airways, you'll find that not a single minute goes by that you feel bored. Big screen entertainment is available and you are in control of what you see. You'll find the latest blockbusters, your favorites and timeless classics. Hollywood, Arabic, European and Asian movies are available with subtitles and multiple language tracks. If you are a fan of TV shows then you get to see the top rated dramas and comedies, lifestyle shows, sports and documentaries. You are granted the freedom to create your own playlist so that once it is set, you can sit back for the duration of the flight and watch your favorite content without having to change every time a show or movie ends. There is live news streaming as well as sporting action. For music lovers there are over 500 CD's in the Etihad library from where you can create your playlist. Audio books are available for bookworms too. There is aselection of interactive games for all ages including a host of Android games on the B787 and A380. Travel once on Etihad Airways and you'll never opt for a different airline the next time.