Staff Picks to help you save even more at Erzgebirge Palace
Expiring Erzgebirge Palace Coupon . Good luck!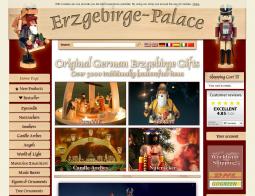 Visit erzgebirgepalace.com
Related Categories
Erzgebirge Palace Coupon website view
Searching for wood art products, handmade gift items and unique collectibles? Erzgebirge Palace has the widest possible range of products and items for you! Whether you need to decorate your homes or even if you want impressive wooden gifts for turning your offices into beautiful spaces Erzgebirge Palace has unlimited products for all kinds of individuals and businesses. Currently, the company offers more than five thousand items including 250 Christmas Pyramids, 600 nutcrackers, 900 German Smokers and 200 wood based music boxes. The store also supplies German ornaments, angel editions, miniatures, manger figures, window pictures and tree ornaments among other products. Each of their products are handcrafted and designed for people who want innovative and enticing wood art for their spaces. If you haven't purchase wood art products and items before then don't forget to check out Erzgebirge Palace today! For further details about their products, discounts and offers, check out http://www.erzgebirgepalace.com/!