Learn More About enotes.com

eNotes is an educational website for students and teachers that provides material to help in assignments and exams.Founded in 1998, eNotes has become a resource daily used by thousands of people around the world including students, teachers, professors, and researchers. Helping thousands of people with original lesson plans, literature study guides and live homework help, eNotes is a top site renowned for its educational focus.Offering help in different subjects, from maths to science, eNotes provides various guides and quizzes to help the students prepare better. The material is all checked, edited, and written by professionals. Teachers and students have been relying for years on eNotes to help them academically in their respective fields.Starting at just $16.67 a month, eNotes provides a digital library no matter where you are. It helps you spend less, save time, and plan smatter. You can subscribe to their growing lesson plan library and get an exclusive access to lesson plans, response journals and document downloads. Their chapter by chapter activities, reproducible handouts and ready to use quizzes provides an effective and friendly environment for students to learn and efficiently plan their studies. Their plan content and resources are guaranteed to be of the highest quality.eNotes introduces eTexts that brings your local libraries closer to you making hundreds of works of literature available to read online for free. You can enjoy the benefits of making up text just like you used to mark up a books page to highlight important terms, and plot points using Annotated eTexts. It saves your time and money while preparing you for your exam or essay in a better way.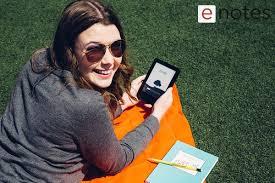 eNotes has successfully covered the following features:• Growing Library:With over 150 lesson plans and hundreds of quizzes with additions monthly• Massive Study Guide Selection:More than 30,000 titles with in-depth content.• Free Document Downloads:Thousands of teacher-sourced documents.• Highest Quality:Created by fellow teachers, scholars, and professors.• Engaged Community:Connect with the team whenever you need.• On the Go:Access eNotes anywhere, on any device.eNotes provides various guides to facilitate students and teachers. Authoritative guide: eNotes study guide is 100% accurate as it is written by teachers, literary scholars, and PhD candidates. The hardworking team at eNotes copyedits and proofreads every word to bring you the information you need to understand.Comprehensive guide: Featuring a thorough analysis of works including an introduction, plot summary, character analysis, discussion of themes, excerpts of published criticism, and more, the comprehensive guide is a complete package to help students academically. Many guides contain important highlighted quotations or excerpts with commentary to ensure that you never feel left out about literature.Instructive guide: It can guide you to study and prepare for your tests with more than 1000 free quizzes for you to understand novels, stories, plays and its character more thoroughly.Inexpensive guide: Subscribers receive an exclusive access to thousands of guides and eTexts for only 16 cents per day. You can read an annotated copy of the work with detailed summary from the money you save to purchase a book.eNotes also provides an essay lab to help you write better essays without any grammatical mistakes. Either you are stuck somewhere or want someone to proofread what you wrote, eNotes allows you to submit your work to their team that can help you write better. It helps you to grow as a writer by asking professional experts to help you with it.