Expiring Educator Promo Codes . Good luck!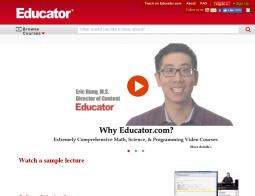 Visit educator.com
Educator website view
Educator.com pairs educators with high school students, college students, and professional students to offer academic subjects in an online video format. You can find videos on basic match, pre algebra, algebra 1, algebra 2, geometry, trigonometry, pre calculus, math analysis, AP calculus AB, college level calculus level 1, AP calculus BC, college calculus level 2, multivariable calculus, probability, AP statistics, life science for middle school, anatomy & physiology, general biology, AP biology, microbiology, physical science for middle school, general chemistry, AP chemistry, organic chemistry, physical chemistry, high school physics theory & application, AP physics 1 & 2, AP physics B, AP physics 3 mechanics, AP physics c electricity & magnetism, AP psychology, AP microeconomics, AP macroeconomics, AP US government, Word press programing, C# programing, HTML training, HTML 5 training, software training, language classes, art studio art 2-d, music composition, music theory, AP music theory, song writing & composition, music history & appreciation, and much more. You can figure out which of their plans is best for you, all have unlimited access to all of their courses.