Learn More About ediblearrangements.com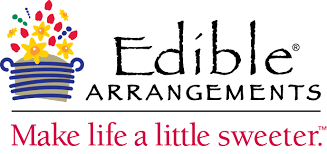 Edible arrangements is the pioneer and market leader in Fresh Fruit Bouquets industry, the business being the first one to offer such products on a commercial scale. With their array of irresistible products, including The Original Fresh Fruit BouquetTMand gourmet chocolate dipped fruit, any occasion can be made special. They believe in invention, innovation, investment and imagination, and with their entrepreneurial history and spirit soon topped the market for wholesale fruit industry. Their magnificent stores are designed to be pleasant, with attractive fresh fruit arrangements, which are also offered dipped in chocolate. Their offerings can be shipped to number of locations throughout USA on immediate notice, seven days a week at any hour of the day.
The Business's first store was launched in 1999 in East Haven, CT, where factors such as: Americans' growing consumption of fresh fruit, the robust growth in the specialty foods market, and the increasing amount of money Americans were spending on gifts were the main inspiration for the launch. Their first franchise opened in 2001 in Waltham, MA, the company has since expanded to 1200 stores nationwide. Ever since their launch the company ahs been recognized as an industry leader and has been ranked first in its category in Entrepreneur magazine's annual"Franchise 500" for the past nine years and also places regularly in Entrepreneur's Top 50 of"Fastest-Growing Franchises" and"America's Top Global Franchises." They were named one of the Top 5 businesses in Connecticut by Inc. magazine's first Hire Power Awards in 2012 and also ranked in Inc.'s Top 5,000 fastest growing privately-held companies for eight consecutive years. The founder of the business Tariq Karim, a Pakistani American gained his experience from working at various food and gift franchises and came up with a perfect recipe for a successful food and gift business. He regularly spends time in the stores to stay connected with owners and guests, to note their demand and likes and help evolve the business to newer levels.
Their mission statement is to capture the delight of their customers and amaze them, and for that they spend tons if hours each week, developing their unique and inventive fresh fruit concepts. They make sure, every piece of product they use meets the highest standards of quality and all designs are made with precision and utmost neatness.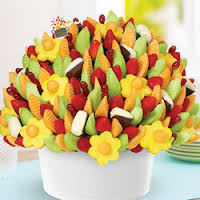 They offer bouquets in different styles based on the occasions, the special events they cover include: Anniversary, Birthday, Business Gifts, Congratulations, Get Well, Good Luck, Graduation, Housewarming, Apology, Love, New Baby, Sympathy, Thank You, HOLIDAYS, Memorial Day, Father's Day Gifts, 4th of July, Bridal Showers, Corporate Events, Baby Showers, Weddings and Bachelorette Parties.
With their immense success, the company has not forgotten about less fortunate and needy and have formed a charity organization to collect funds for them through their sales and donations. The charity organization named"Edible Cares™" encourages health, happiness and well-being and betterment of all, through charitable contributions and community outreach both nationally and in local communities. As part of our Edible Cares™ program, they've partnered nationally with the National Breast Cancer Foundation and the Breast Cancer Society Canada each year since 2005 during Breast Cancer Awareness Month (October). Each store and franchise of the company is associated with the cause and contributes when it comes to giving back to the society, weather it is distribution of fruit in local areas or fundraising campaigns for community schools or any activity which benefits the society as a whole.
The business's online store presents the user with a very slick interface, which is very easy to use and ordering different category of products isn't a problem at all. The store accepts all forms of electronic payments and delivers within the same working day unless of unavoidable circumstances. Edible arrangements is a real example of a successful business and one that you should take lessons from.
For more information, visit the Edible Arrangements official website to see the best custom designed food and fruit baskets.https://www.ediblearrangements.com/