Learn More About easyclosets.com

When you are preparing to build a home with your design or your office or showroom, at that time you must be careful about the storage. Storage capacity is the most desired subjects in interior decoration. A perfect space for storage does not only a space; it should also look good so that it also compliments your interior decoration.
Easyclosets.com brings you the high quality design and best closets. It makes your life easy and enjoyable by intelligent storage solutions that put things in their proper place. Otherwise, you will get into a big mess, yes an arranged home is not only looks good but also make your life easy and joyful. Its storage solutions include closet organizers, garage storage systems, pantry organizers, laundry cabinets, entertainment centers, and much more.
It is a part of The Stow Company, a leader in custom home storage and organizational products for over 30 years. It is first online closet company. Its manufacturing unit is situated in Holland, Michigan.
It has world class manufacturing, which provides furniture with fit quality and finish standard, to every home. It uses thermally fused lamination which provides a durable and attractive finish.
The custom organization systems use high quality, 3/4" thick commercial grade composite panels with a thermally fused laminate surface that provides a durable, attractive finish. With a wide variety of colors, styles and accessories available in stock, you can customize designs specifically for your space, lifestyle and home décor.
It provides you the classy designs where you can design your closet as Reach – In, Walk – In, and other shapes. A closet provides you a space, where you can arrange your room with multiple drawers, where you can put stuff like paper, books, boxes, shoes, or can hang your apparels on hangers in an appropriate space.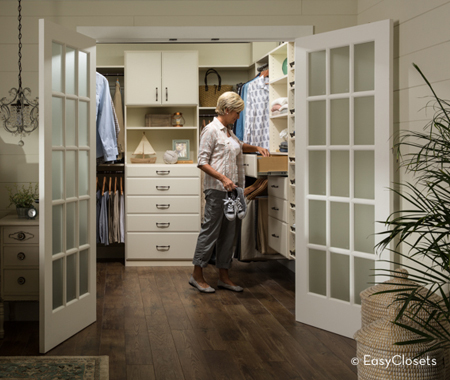 Pantry is a place where you store the entire food and food preparation machine like microwave oven, sandwich maker, etc… you need a lot of speed space to store all the food items. So you can see the designs and can prepare according to your choice.
A garage is should be designed according to your requirement, each feet measures with your requirement, then it will take place for set bags, hang jackets, putting of shoes, frequently used items, storage capacity, work space.
You can also arrange your laundry, so that you can have a particular place for your washing machine, toiletries, soap, clothes and other stuff, that should easy to reach.
Entryway leaves an impression; it should decorate with a closet, where you can put off your shoes and can hang your umbrella, overcoat, etc…
Your TV, home theatre and music system should place at right space so that you can enjoy more while watching TV or listening music.
These all designs are D0 – IT – YOURSELF, so can design by yourself, after all you know the every bit of your home. It has several feature products such as Appealing Color Options, Garage Organization Systems, Media Centers. The design features include Slide-out Basket, Slide-out Belt Rack, Corner Shelves, Drawer Divider, Full Extension Glides, Tilt-out Hamper, Fold-out Ironing Board, Jewelry Tray, Slide-out Pant Rack, Scoop Front Drawer, Shelf Divider Shoe Shelves, Slide-out Tie Rack, Tray Divider, Slide-out Valet Rod, Custom Doors, Hutches, Wine Rack & Stemware Holder.
You can design your home and place, according to you with your styles and colours, by yourself as you want. Designing your own home is like a dream come true, give your home a smart, authentic and classy look with a variety of colours and style, from laundry to the living room.