Learn More About eastpak.com
Eastpak is a world famous brand that specializes in production of backpacks, bag, travel gear, and different kinds of travel accessories. Company was started in 1952 by Monte Goldman, and carried the name Eastern Canvas Products USA during that period. They exclusively cooperated with US military, producing duffle bags and packs for their needs. In 1976, when Monte's son Mark Goldman joined the company, they shifted their focus toward the civilian market, and started catering to the needs of the free market under the name Eastpak.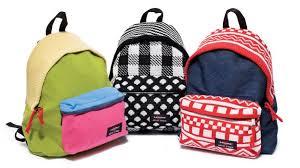 It was the discovery of one particular niche market that led to their focus shift, the US college student. They wisely realized that college students have numerous difficulties in carrying books and other class resources with them during studies, and offered what is now a staple of every student to them – a classic backpack. It proved to be an ideal solution since backpacks where extremely easy to carry around and could fit a lot of notebooks, books, pens and paper in them. Additional success came when they decided to be the first company of its kind to offer a lifetime warranty to its customers. Their customers were overjoyed at the prospect of not only buying such a convenient product, but to have it last a lifetime, and soon Eastpak became a household name. During the 1980s they were the first ones to introduce vibrant designs the entire era is known for, and their backpacks and bags became not only practical, but fashionable as well. Their creative TV ads increased their popularity, and another success came in 1999 when they introduced a new revolutionary system of wheeled luggage – a discovery that significantly made carrying around heavy luggage much easier.
Now, Eastpak is a true powerhouse in the world of luggage, bags and travel accessories. They created their most famous product, the Padded Pak'r® in 1976 and it remains almost unchanged ever since then. They export their products all around the world, and are a well-known brand that guarantees high quality merchandise at affordable prices. They sell their products online too, and their website features a large catalogue and is easy to browse through and place orders. Ever since their military days they have been focused on quality primarily, and the groundbreaking designs they made in the past and continue to make to this day guarantee a well- made and stylish travel accessories. They have plenty of discounts and good deals presented on their website too, make sure to drop by every once in a while and see if your favorite product is on sale; you might be able to buy it for a significantly lesser amount of money then. If you need luggage, bags and travel accessories, Eastpak is definitely a company you should pay special attention too. They have a user-friendly website you can easily place orders on, customer service that will go out of their way to help you, and high quality merchandise at affordable prices. Register now to make the best use of their discounts and special deals.