Learn More About eaglemoss.com

Eaglemoss is a unique company that invests in researching, creating and marketing of various projects. With a good bond with licensors and partners, Eaglemoss has moved ahead to achieve the best results. Before the launch of any product strategy this company conducts detailed quantitative research with the normal population along with regional marketing tests that prove quite helpful for Eaglemoss. You will be amazed to know that, 18 months of testing and developing is done before the launch of any new concept. This is backed up by TV national campaign that ensures brand visibility in every country where Eaglemoss has its reach.
The product catalogue offered by Eaglemoss is quite unique and interesting. This online portal will help you explore the various goods that are managed by Eaglemoss which have gained global recognition. From comic heroes to technological stuff, you are offered all such items at Eaglemoss. This website has a wonderful interface that allows you to check out various categories under quick time. There is a separate section of sci-fi and even crafts that makes Eaglemoss a versatile company. The figurines and diecasts offered by Eaglemoss are quite famous. Such an amazing collection is rare to find anywhere else apart from this smart dealer. You can shop without any hassle as Eaglemoss focuses on customer satisfaction to a whole new level.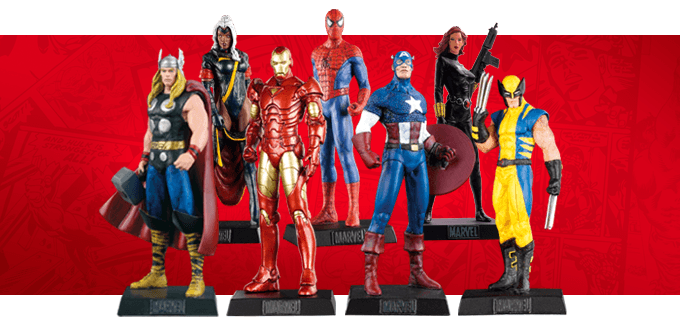 Under the Comic Heroes section, you can access merchandise and other goods from your favorite Marvel or DC comics and even movies. The sub-sections offered under this category are Marvel Movie Collection, Marvel Cosmic, DC Watch Collection, Marvel Chess, Marvel Fact Files, DC Comics Graphic Novel Collection and a lot more. These items are admired by kids & adults both which makes Eaglemoss a popular portal for buying quality comic heroes collectibles. There is a Crafts & Cooking section which has bakery items that are quite impressive. You can check out the Disney FROZEN Cakes & Sweets product which will help you prepare delicious cakes using a fine recipe. Apart from this, you can even buy the Knit & Stitch Collection which is very useful. Under the Technology section you can check out 3D Create & Print along with an interesting option of Miro: The Biomimetic Robot which is quite alluring.
To please the kids, there is a separate section that offers Disney Animal World, Wonders of Nature and Dora Little Cooks Collection. Apart from this, you can access Game of Thrones merchandise along with Lord of the Rings and Star Trek collectibles. In order to access frequent updates related to the portal and its products, you can sign up to the newsletters. A number of goods are constantly updated so as to please the large customer population. The Model Making section is quite attractive that offers an opportunity to plan a model through the tools offered from this site. There is James Bond as well as Nissan GTR models which can be created with the help of Eaglemoss. The customer service is ready to help customers at all times.