Learn More About duluthtrading.com
Duluth Trading is a US based online retailer of men's and women's clothing that sells clothing products at affordable prices. The website offers a wide range of products under different clothing categories which include shirts, pants, underwear, outerwear, footwear, accessories, gift & gear, and more. Other than their online store, the company also has 9 retail stores situated in Iowa, Minnesota, South Dakota and Wisconsin. The company was first established in 1989 in Duluth as a clothing retailer that now expanded to an online store and 9 actual retail stores. The company is also planning to establish their new store in Duluth next year from where it was actually started but never operated there so far. The company currently employs more than 260 employees. The prices offered at the website are very affordable and competitive. On top of their great prices, the website also offers tons of special offers and deals mainly through their web announcement or social media pages. For example, under their current promotion, the web store is offering 20% discount in addition with free shipping for all orders that worth $75 and more. Customers can also signup on the website with their email to receive all the latest details as well as product catalogs. The website also features sale category on their homepage where customers can find an array of products available at special discounted prices. The most popular clothing line of Duluth Trading is their work wear products.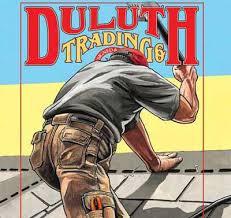 Other than their main clothing products, the company also sells and markets tools and accessories. The products are popular for contractors and among do-it-yourselfers. The products are often marketed under different trademarks and brand names like Buck Naked, Ballroom, Bucket Master, No Polo Shirt, Cab Commander, etc. The online store also offers tons of tools to help customers make an informed decision while buying. For example, the website features detailed sizing charts and fit guides and e-catalogs.The website is also simple to use with eye catching modern design. The online store also offers international shipping through different shipping options. For US customers, it offers overnight as well as 2 day shipping options for different prices. Customers can also track their orders online once the order details are emailed. One of the most attractive features of Duluth Trading is their refund policy (No Bull Guarantee) which allows customers to return the products unconditionally for full refund if they are not satisfied with the product. The website also hosts a blog where readers can read about latest fashion trends and other news from the clothing industry. The website and the associated stores have also received an above average rating from the customers on different review websites which indicates that the company is popular among customers. All in all, the online store looks like a good option for people looking for quality but affordable work wear and other tools and accessories for their do-it-yourself projects. The product range is impressive, prices are affordable, online feedback is great and the website is simple to navigate and order, so there is no reason to not to buy from here.