Learn More About dorothyperkins.com

Set up over 95 years back,Dorothy Perkinsis currently one of the greatest design retailers in the United Kingdom. In fact, it was founded in 1909 initially as H. O. Newman, then the name was changed to Dorothy Perkins in 1919.
In the thirties, during the Hollywood arrivals, Dorothy Perkins started recreating Hollywood icons hourglass figures with elegant dresses. It then went to more practical wardrobes during the forties because women were taking over men's jobs during the war, more trousers and plain shirts were added to the collection along with flat shoes. Dorothy then moved to a more young-looking style, Jeans were popular in the fifties and the brand took advantage of it, it had a more rock 'n roll style and kept going until the sixties where more style choices were added including some flowery patterns to get in the hippy vibe. In the late sixties, it opened up its 225th shop and slowly the brand took over almost all of British streets, it also built a relationship with Biba and started buying makeup from its stores. They also funded the opening of Big Biba in Kensington High Street with its own unique décor. All over the years, Dorothy Perkins had an influence on fashion and it kept going with the styles coming in and out of fashion by adding its unique touch to all their products.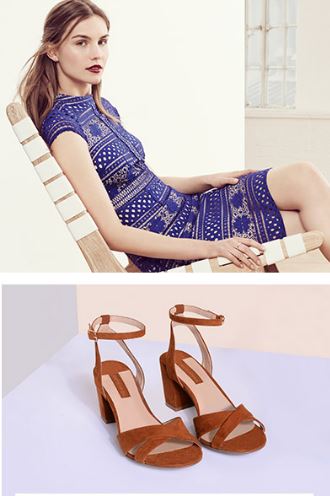 Today, they have more than 600 stores in UK and over 120 others worldwide, all of them offering a wide range of unique and affordable fashion clothing for women aged between 25 and 35 years.
Dorothy Perkins products include dresses, Jersey tops, knitwear, coats, jewelry, lingerie, shoes and also special clothing for maternity, petite and tall women. It offers sizes from 6 to 22 in almost all of its lines. For shoes, they have a range of 3 to 8 UK sizes and 9 for some models.
Their website dorothyperkins.com, which was launched in 1999, is the largest one of their stores. It ships their products in nearly 100 countries with lines that are updated on a daily basis. Customers can choose from a great range of clothing and accessories according to their size, style, season and occasion. The price selection makes it easier for customers to choose exactly what they want and they can buy it online or at any local store that has the same product available. They also offer a selection by brand for their products, such as Paper Dolls, Luxe, Showcase and Little Mistress. You can find local stores in the country of your choosing with their Store Locator added on the website.
Their business keeps growing with constantly adding customer base. With almost 100 years of experience, they have moulded themselves perfectly in fashion industry and know exactly what to offer to women according to their style and needs.
The company also supports Breast Cancer Care for more than 10 years and has been able to raise over 3£ million for people affected by the disease.