Learn More About dorcousa.com

Dorco is a popular brand of shaving products operating in the United States of America. It offers disposable razors and razor blades to both men and women. The company started in 1955 with the name Dongyang Light Metal Co. Later on, the name was changes into Hanil and a razor blade factory was established in Seoul, South Korea. The name Dorco was introduced in 1990. As the company continued to expand, a subsidiary company was created in Mexico with a factory in Tijuana in 2005. The product development of Dorco is an interesting story. Initially, the main product of the company, razor blades, was made from carbon steel. In 1968, the raw material was changed to stainless steel. In 1977, they partnered with Wilkinson for two-blade technology to be incorporated in their razors. Today, the main offering of Dorco is disposable shaver for men and women in the United States. Today, one of the strongest assets of Dorco is its strong public relations. Their website is a manifestation of their excellent relationship with their consumers. A portion of their website lays down the customer feedback they continuously receive. According to comments, the shavers are so flexible that it matches the curves of the body without hassle. Another customer says that he only has to shave one time because of the excellent performance of Dorco's products. The "reviews portion" also lets visitors watch the testimonials of people who have tried the product to convince them to purchase. Indeed, this feature boosts the credibility of Dorco as the prime choice when it comes to shaving products.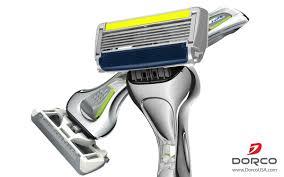 Apart from separate categories for products for men and women, the website also provides shaving tips for its consumers. These tips not only inform the consumer of the do's and don'ts of shaving, it also assures that the effectiveness of their products is not affected by any external factors such as misinformation. In line with their public relations is their sales promotion. For every category, may it be products for male or female, discounts and deals are presented. Combo sets bring various products together at a lower price as compared to buying them individually. This saves the consumer a few bucks to spend for other necessities. Lastly, a great feature of this website is its ability to choose a specific product based on the shaving needs of the consumer. Since most of people don't know what the appropriate razor for their facial is, they tend to experience inconvenience even when they buy a high-end shaver. With this feature, Dorco helps their customers save some money and enhance their shaving experience. With Dorco's excellent product innovation and close customer relationships, it will continue to be one top of the list when finding a brand that will remove all the worries of people who want to find solutions for their "shaving" problems. They offer a wide selection for every type of shaver out there-- including those for thick, coarse and hard to remove hair types.