Learn More About designtoscano.com

Design Toscano is an online shop that has a large catalogue of historical and antique statue replicas as well as various furniture and home décor. They operate online and deliver good straight to your front door. Company was founded in 1990 by Michael and Marilyn Stopka. Inspiration came from their trip to Paris where they witnessed lovely gargoyle statues and historic fountains at Nortre Dame. Inspired by the beauty they witnessed, they decided to introduce replicas of those pieces to America in 1993. When they visited Albi, France, the company's founders were once again fascinated; this time by Jacquard tapestries, and quickly decided to add them to their catalogue. Ever since then, the company deals in medieval, Egyptian and various other period pieces that replicate the original art of the Old World. Garden fountains, statuaries, authentic canvas replicas of painting masterpieces, and other art reproductions. There are all kinds of ornamental accessories too, and they vary from Gothic and dragon inspired items all the way to classy and elegant pieces inspired by European art from different periods. African masks, Indian symbols, and other Oriental ornaments are a part of their offer too. All the replicas are made with extensive attention to detail, curtesy of the company's designers who work a lot to make replicas as believable as possible. Enchant your garden or patio with a replica of world famous statues which will provide your home with an additional dose of elegance. If you decide to drape your walls in famous Jacquard tapestries you will discover a whole new dimension to your home that was previously hidden.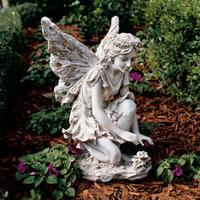 Interface of their online shop is user friendly and easy to browse through. They don't deal only in famous art replicas only; there are fun zombie and children statues too, ideal for Halloween and other decorative events. They have home accessories in their catalogue as well, candle holders, chess sets, model ships, jewelry, watches, as well as furniture. There's a lot of bar and restaurants too, ideal if you want to liven up your place of business and create a comfortable place where your customers can relax and blow off some steam. It is ideal for themed bars since Design Toscano has a lot of different specialized merchandise such as gothic, steampunk or fantasy themed pieces. Customer service department of the company is exceedingly helpful, and ready to answer any questions you might have. They will give you advice in choosing the right statue or decoration too, if you can't decide for yourself. Shipping is highly developed, and the item you ordered will arrive in no time, straight to your front door. If you feel like your garden or interior needs a bit of flair register on Design Toscano and order up either a fun or class statue to introduce a bit of chic to your home. They are ideal if you want to buy a gift for a friend, family member or a partner too, their catalogue is teeming with interesting and memorable items.